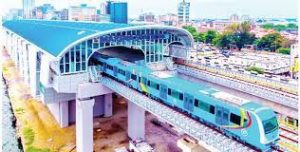 – Warns commuters against crossing electrified rail tracks
Vincent Toritseju
Lagos — The Lagos Metropolitan Area Transport Authority, LAMATA, has said that the agency's Blue rail line will move about 150, 000 passengers between CMS Bus-Stop and Mile 2 on a daily basis.
Speaking ahead of the commencement of the rail services on Monday, LAMATA Managing Director, Abimbola Akinajo, said that all infrastructure and energy system needed to put the rail into use have been completed.
Akinajo warned commuters against crossing the rail tracks as they are electrified that any attempt to do so could lead to instant death.
The LAMATA boss also said that the projected target of passengers going by its research and projection is 150,000 every day.
She also said that passengers are not allowed to eat or drink on the trains saying, "If you want to drink, drink before you get on the train because we are trying the sanctity of the system."
Akinajo added: "We currently have three sets of rail coaches, for the first couple of weeks, we will only run 12 trips which means that we will be gradually increasing the operational service we offer. For now from Marina all the way to Mile 2 is ready for service.
"We will be stopping at every station. So this is a terminal station, Mile 2 is a terminal station. At Marina and Mile 2, the train will be stopping for not more than five minutes. This is a metro service, so this is not one that you can be wondering to come on. We will be working to a timetable. That timetable will be available on LAMATA's website, that timetable will also be available at every train station.
"When the train gets to any station, it would stop for no more than 90 seconds, it is for us to understand that it is a schedule service. So you need to understand the time tabling, when you know what train you want to catch on, make sure you are on the platform one minute before that train arrives because the train will remain at the station for not more than 90 seconds.
"Every journey will start from Marina, and it will stop at every train station. We are doing this to ensure that the people are truly familiar with a metro system. So you will get on at Marina and you can do the journey up to Mile 2 Station which is the terminal station for now.
''So how do we embark on our journeys, we need a cowry cards; you need to load your cowry card. At our Station, you will see we have ticket offices, you can buy a cowry card, register yourself on it or top up here.
"All around our stations, there will be people who have these Point of Sale, POS, machines who can sell tickets to you and top up your cowry cards.
''We are trying to make this easy and simple for every commuter, once you top up your cowry card, all you need to do is proceed to the gate. You tap your card on the machine, the gate opens, and you go on to the train.
"We will start only with 12 services; we are also going to be doing the services in the morning and in the evening. So, we will be doing morning pick and evening pick. During the day, we will still be doing testing and the testing is for us to continue to ascertain that our electric system has completely synched with the physical infrastructure.
"After two weeks we will increase the number of services but in the four weeks, the locomotives will come off the rolling stock and the system will be completely electrified.
''The electric system will come on in four weeks and we are using these four weeks to allow the electrical system to be tested and also to allow us and passengers to understand how to function around the metro system so that by the time we are fully energized, everybody should be comfortable around the metro system. So this is going to give us an opportunity for everybody to be able to work around the system, to understand the system.
"But be aware that even though we are not utilizing the electric power to power the trains we are starting with, our tracks will be energized and electrified. So the message is that do not cross the tracks. This is pertinent. Under no circumstance should anybody get on the tracks because they are energized. We are just not using it to power the trains for now, when we are doing the testing, they will be energized.
"So it is important that we must not go near the tracks. From today we will be on radio, we will be everywhere, we will be on the internet reiterating what we have been saying for a very long time. Under no circumstance should anybody cross the tracks, do not from the platform say you want to cross to the other platform and say you want to run across, please do not do it.
"There are platforms for you to do that do not cross the tracks. I cannot emphasize this enough because there is no alternative to life. If you cross the tracks, it will be fatal; so please do not cross the tracks.
''I believe this is the responsible way to introduce an electric power railway system in Lagos by ensuring that we start without full electrification, and we graduate into full electrification; so hear it again, do not cross the tracks.
"When we are in full swing, we will be doing 76 trips a day because the tracks belong purely to us. We are able to run this service efficiently and effectively and we have worked out a timetable that is hugely efficient.
''We are utilizing the three trains that we have to provide these 76 services of train movement in one day.
"In order to ensure that safety of our people as part of what we have promised, we have over 300 cameras in our stations. We have 30 cameras along the tracks for you to know that we will not tolerate any form of vandalization of our infrastructure. We have control centers in every station and a major control center at the LAMATA office."
In all of that we expect between 150,000 and 175,000 a day, that is what my feasibility study has shown, So that is what we are expecting to go through our system in a day. It is not everybody that will start from Marina and end up in Mile 2."