23 September 2014, Lagos – Residents of Itire-Ikate community protested against what many of them call "crazy bills" by the Eko Electricity Distribution Company.
The community, which comprises 12 streets, on Friday marched to the power firm office with a protest letter jointly signed by representatives of the various streets, the chairman and secretary of the Itire-Ikate Community Development Association.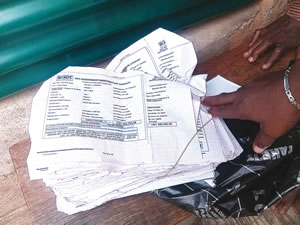 In the letter, the residents lamented, among other things, estimated billing, improper reading of electricity consumption metres and inept services rendered by the distribution company.
The letter read in part, "We the entire members of the community of Itire/Ijesha area hereby tender our grievances on the inept services rendered by the Eko Electricity Distribution Company in our area.
"The grievance bordered on the crazy bills, estimated billing, improper or non reading of our electricity consumption metres and adjustment of previous balance."
The community, in addition to the letter, compiled all the "crazy bills" and attached them to the letter.
The residents, who spoke to PUNCH Metro, lamented that the estimated billing was not only unfair, but unreasonable.
A landlord in the community, who is also the Chairman of Salami Bashorun Landlords Association ─ one of the streets in the community ─ Abiodun Bashorun, said the area had been experiencing blackouts for many months, adding that the bills, however, kept increasing.
He said, "Our grouse with the Mushin District of the Eko Electricity Distribution Company is that in spite of the fact that power supply to our area has reduced drastically for some time now, our bills keep increasing."
At the Isolo office of Eko Electricity Distribution Company, the protesters submitted their letter at the office of the Business Manager.
But the Secretary, who accepted the letter on behalf of her boss, declined to accept the pile of accumulated "crazy bills."
She explained to the protesters that she could not accept the bills since her boss was not available.
She later directed the protesters to a senior official who explained to the protesters that increase in tariff was done across the federation and not just the district.
The senior official, who chose to remain anonymous, said, "The issue of crazy bills, like you call it, is being addressed generally. We don't fix prices of electricity consumption by our customers, the National Electricity Regulatory Commission does.
"You know power company as a whole used to be owned by the government and the government at the time subsidised the cost of consumption.
"One of the ways of making the business attractive for private investors was to increase electricity tariff. Very soon, the issue of estimated billing will be a thing of the past.
"Encourage your people to pay their bills as and when due. You know this company no longer belongs to the government, the owners are also out to make profit."
– The Punch