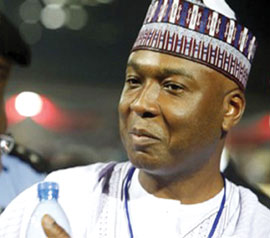 04 February 2013, Sweetcrude, Abuja – Chairman, Senate Committee on Environment, Mr. Bukola Saraki has declared as unlawful and unconstitutional, the $8 billion fines being sought by the Federal Government of Nigeria against Royal Dutch Shell and Chevron for oil spills in the Niger Delta.
Speaking in an interview in Abuja, Saraki said the fines sought by Nigeria for oil spills are not backed by law.
According to him, under the existing law, there is no penalty for oil spills apart from just to clean it up, adding that the companies are only fined N1 million ($6,362) for late reporting.
He said that without the backing of law, it is difficult for the National Oil Spill Detection and Response Agency, NOSDRA, to enforce fines levied on oil companies.
This, he added, has made the National Assembly to commence moves to amend the law and stipulate tougher penalties for offenders.
"A new National Oil Pollution Management Agency Bill proposes fines of N250,000 naira for every barrel of oil spilled and will compel producers to pay compensation to affected communities.
"The bill proposes additional penalties of N15 billion for every onshore spill incident and N5 billion if it happens offshore," Saraki said.
Confirming this, Hadiza Mailafia, Minister of Environment, said the Federal Government is studying existing laws as they relate to oil spills and will make pronouncements in due course.
Precious Okolobo, Shell spokesman in Nigeria, declined to comment when contacted on his mobile phone.
Chevron obeys the laws of the countries in which it operates and won't "comment on political matters," Jim Craig, a San Ramon, California-based spokesman, said.
Also speaking, Nnimmo Bassey, executive director of Environmental Rights Action, an affiliate of Friends of the Earth, said, "While improving the law will definitely strengthen NOSDRA's capacity to monitor energy producers, tough measures are unlikely to be enforced against companies engaged in partnerships with the government.
"I think that's the political issue we still have to confront, no matter how good the law will be."