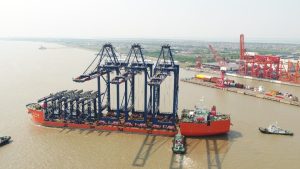 – Commissions scanning machine
Vincent Toritseju
Lagos — In a bid to maintain its lead as top rated container terminal operator, the management of the Lekki Port LFTZ Enterprise Limited (the promoters of Lekki Deep Sea Port), Wednesday commissioned a state-of-the-art scanning facility with a view to fast track its efficiency in cargo delivery.
In a statement, company said that machine also known as Non-Intrusive Inspections System to fast-track the examination and evacuation of containers from the port.
The world-class facility was commissioned by the Customs Area Controller, Nigeria Customs Service, Lagos Free Zone Command, Mrs. Dorothy Omogbehin expressed confidence that the scanning facility would significantly optimise the inspection process and increase cargo turnaround time at the port.
She commended Lekki Port for ensuring that the customs personnel to carry out the scanning were trained with the requisite skills to operate the state-of-the-art facility. She also commended Lekki Port for the enormous financial investment in procuring the best-in-class facility for the port.
Speaking earlier, Managing Director and Chief Executive Officer of Lekki Port, Mr. Du Ruogang, described the facility as another essential facility that would enhance ease of doing business, facilitate trade, prevent port congestion, boost revenue generation to the government, and improve national security.
Ruogang attributed the progress recorded in the operations of the container terminal at the Port and other milestones to the tremendous support received from all stakeholders including the Nigeria Customs Service.
He noted that Lekki Port in collaboration with Lekki Freeport Terminal would continue to do its best to shape the future of container handling in Nigeria and beyond by bringing greater efficiency and greater capacity to the market.
Describing the uniqueness of the facility, he stated that the drive through inspection system of the scanning facility adopts dual-energy X-ray imaging technology to discriminate organic, inorganic, and mixed materials, which are marked with specific colours to help identify the contraband and dangerous goods concealed among cargoes or hidden in the vehicle.
He added that the Inspection system can be integrated with various auxiliary devices, including the License Plate Recognition (LPR) System and Container Code Recognition (CCR) System, to provide comprehensive information on the inspected goods. The scanner adopts the compact modular design concept for convenient relocation and seamless integration with other subsystems," he said.
The scanning team at the port proceeded to do a demonstration of the scanning facility to the admiration of the stakeholders present which included Mr. Olatunji Okoya, Coordinator, Southwest Zonal Office of the Nigerian Nuclear Regulatory Authority who inspected and licensed the scanning facility before commissioning to ensure that users are safe from nuclear radiation.
Follow us on twitter