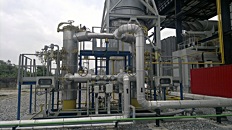 15 April 2013, Tripoli – Libya says it has returned its oil output to the level last seen before it became embroiled in a civil war in 2011.
Deputy Prime Minister Awad al-Baraasi said at an energy conference in Dubai that "oil terminals and refineries have been restarted and oil production has returned to the pre-war levels".
Baraasi did not specify a figure for Libya's current production, which ran to 1.7 million barrels per day before the conflict erupted, Dow Jones Newswires reported.
Last November, the chairman of Libya's National Oil Corporation said it aimed to boost oil output to 1.72 million barrels per day by the end of March but warned strikes could interrupt production.
In February, Oil Minister Abdelbari Arusi said that pre-war output levels were targeted for the end of 2013.
Last month, the country pumped 1.325 million barrels per day, according to a survey of industry and official sources conducted by Dow Jones Newswires.
Libya, holder of Africa's biggest crude reserves, has fast recovered its oil production since the overthrow and killing of former leader Muammar Gaddafi but foreign operators still complain of infrastructure constraints, tough contract terms and persistent insecurity.