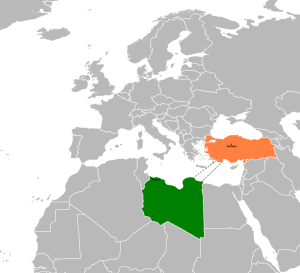 Tripoli — A Libyan court on Monday suspended a maritime and energy exploration deal signed with Türkiye last year as the North African country's future is continuing to be in crisis amid political turmoil.
The agreement had included scope for oil and gas exploitation in waters that Ankara and Tripoli have declared as their own, but which are also in part claimed by Egypt and Greece.
The deal had spurred rivalry in the Eastern Mediterranean and played into a political standoff in Libya between the Government of National Unity (GNU) in Tripoli, in western Libya, and an eastern-based parliament that rejects its legitimacy.
Tripoli's appeals court, which issued Monday's decision, left room for the GNU to itself appeal the ruling, the source said, without giving further details regarding the reasons for the decision.
On the other side, the head of the GNU, Prime Minister Abdul Hamid Dbeibah, said that Libya's cooperation with Türkiye in economic, political and military fields is imperative.
According to a statement by Dbeibah's media office, the prime minister highlighted the strong historical ties between the two countries during a meeting with the Turkish ambassador to Tripoli and embassy staff.
Last year, Türkiye and Libya signed a series of preliminary economic agreements that included potential energy exploration in maritime areas.
The agreements would allow for oil and gas exploration in Libyan waters and came three years after the two countries signed a maritime border deal.
In November 2019, Türkiye and Libya signed a maritime delimitation deal that provided a legal framework to prevent any fait accompli by regional states. Greek government attempts to appropriate huge parts of Libya's continental shelf, when a political crisis hit the North African country in 2011, were averted.
The agreement also confirmed that Türkiye and Libya are maritime neighbors. The delimitation starts from Fethiye, Marmaris and Kaş on Türkiye's southwestern coast and extends to the Derna-Tobruk-Bordia coastline of Libya. In response, Egypt and Greece signed an agreement in August 2020, designating an exclusive economic zone (EEZ) in the Eastern Mediterranean.
In recent years, Türkiye, already at odds with Greece over several issues, including competing claims to jurisdiction, energy exploration and maritime boundaries in the Aegean, has seen deteriorating relations with its fellow NATO member owing to its increasing cooperation with Libya, wherein Ankara has been a significant supporter of the Tripoli administration.
Meanwhile, Greece's Foreign Ministry delivered a verbal note to the Libyan Embassy in Athens on Tuesday refuting accusations that the seismic research vessel Sanco Swift is carrying out illegal activities south and west of the island of Crete (Girit).
According to local reports citing diplomatic sources, the ministry claimed in the unsigned diplomatic note that the area where the seismic research vessel is operating is under Greek jurisdiction under the rules of the International Law of the Sea.
The note, which was conveyed to the Libyan Embassy, highlighted that a memorandum of understanding signed between Türkiye and Libya was not recognized by Athens because it allegedly violates the sovereign rights of Greece.
*Daily Sabah
Follow us on twitter