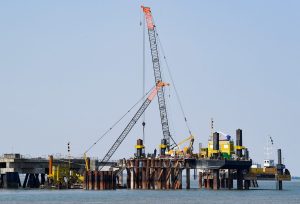 – Global LNG trade hit record high in 2022
– Australia top LNG exporter, U.S. second
– LNG prices have eased in 2023
– Australia top LNG exporter, U.S. second
London — Prices of liquefied natural gas (LNG) have eased from record highs seen following Russia's invasion of Ukraine but the risk of a return to 2022 market conditions remains elevated, the International Gas Union (IGU) said in a report.
The European remains strongly reliant on the spot market to secure LNG supplies, with about 70% of its 2022 imports sourced through spot buying in 2022, the IGU said in its World LNG Report published on Wednesday.
It said this would increase the volatility of European gas prices.
Buying LNG to replace curtailed Russian flows helped Europe weather the first winter of the Ukraine conflict, with the continent importing 66% more LNG in 2022 than the previous year.
Spot LNG prices hit a record $70.50 per million British thermal units (mmBtu) in 2022 but have dropped nearly 83% since.
"Prices eased in 2023, but the level of risk and uncertainty remains high; the market is still out of balance; and the crisis is not yet over," said IGU President Li Yalan.
The report said global LNG trade rose to a record in 2022, growing by 6.8% to 401.5 million tonnes (MT), mainly driven by a surge in European demand.
The IGU, which has more than 140 members representing more than 95% of the world's gas market, said that Australia retained its position as the largest exporter in 2022 followed by the United States.
Qatar and Russia remained as the third and fourth largest exporters respectively, it said.
*Marwa Rashad; editing: Jason Neely – Reuters
Follow us on twitter