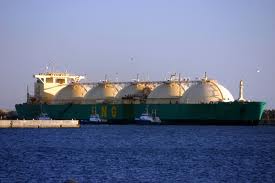 20 September, 2011, Sweetcrude- Liquefied natural gas (LNG) prices are surging to a three-year high as demand from Japan, China and India outpaces supply increases, boosting sales for producers.
Record Japanese imports to replace nuclear power after the Fukushima Dai-Ichi disaster, plus a 27 percent jump in China's first-half purchases, may send prices to about $20 per million British thermal units this winter, up 71 percent from 2010 and the highest since 2008, according to data compiled by Bloomberg.
The world's spare production capacity shrank about 50 percent this year as consumption grew, and will continue to decline through 2014, according to experts.
Rising LNG prices are encouraging ExxonMobil Corporation and BG Group, which got 27 percent of its operating profit from the fuel in the first half, to develop and transport more. That may spur North American exports by 2016 and help the world's fastest-growing economies contain inflation from rising oil and coal costs.
"LNG demand will go up, there's no other alternative,"said P.K. Jain, the New Delhi-based director of finance at GAIL India Limited, the nation's biggest gas distributor and a co-owner of Petronet LNG Ltd., the largest buyer. "Demand will rise in Asia as Japan increases LNG use after Fukushima and even in Europe, with countries moving away from nuclear, long-term demand for LNG may rise."
Demand for gas cooled to liquid and transported by ships may be making U.S. forecasters more optimistic about natural gas. Bulls outnumber bears by about six to one, a reversal from the one-to-two ratio a month ago, according to Bloomberg data. While gas futures on the New York Mercantile Exchange have slumped 13 percent this year to $3.829 per million British thermal units, LNG, which is not exchange-traded, has gained.
Liquefied gas costs surged about 33 percent after Japan's March 11 earthquake and tsunami caused reactor meltdowns at Tokyo Electric Power Co.'s Fukushima plant, and have since climbed toward $16 per million Btu, according to Mark Greenwood, an analyst at Citigroup Inc. in Sydney. They may rise to $20 this winter, according to the median forecast in a Bloomberg News survey of eight analysts.
The country bought spot shipments at $15 per million Btu in July, according to Ministry of Finance data.
Spot deliveries, typically from utilities facing emergency and weather-related needs, reached a 33-month high in June and July. The 10 regional power suppliers bought and consumed record amounts for a second month in August amid all-time low utilization rates at nuclear plants, the Federation of Electric Power Companies said.
"We see prices going to $20," said Peter Buchanan, an economist at CIBC World Markets Inc. in Toronto. His forecasts for natural gas at Henry Hub in Erath, Loiisiana, the benchmark for futures traded on the Nymex, were the second-most accurate after Bank of America Corp. for the eight quarters ended June 30, according to data compiled by Bloomberg.