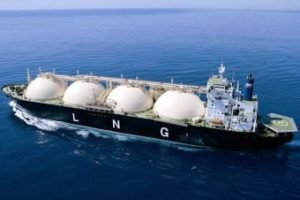 Sam Ikeotuonye, with agency reports
09 May 2018, Sweetcrude, Lagos – Traders have said global liquefied natural gas, LNG, prices still remained firm despite the LNG markets being in the midst of the northern hemisphere's low-demand spring season, during which little gas is used.
"LNG prices are being supported by external factors, namely oil and coal," said one Singapore-based trader, according to Reuters.
The assertion came as Asian LNG spot prices firmed over the past week, supported, as the trader said, by strong oil and coal markets, and amid a structural tightening of the fuel's fundamentals.
Asian LNG prices for delivery in June were at $8.1 per million British thermal units, MmBtu, up 15 cents from last week's value and more than 15 percent above a seasonal low from early April.
Crude oil, to which gas markets are closely linked, are near three-year highs on expectations that the United States will re-introduce sanctions on major exporter Iran.
Asian benchmark thermal coal prices are at their highest seasonal level in more than five years at over $100 per tonne, driven by unexpectedly strong demand.
Coal and gas markets are linked as they are the main fossil fuel competitors in power generation.
Overall, the LNG market in Asia has tightened over the past year, with the winter seasonal demand peak (December/January) and spring low (April/May) seeing significantly higher prices in 2017/2018 than in 2016/2017.
Booming demand for LNG is also visible in the shipping sector, where hundreds of new LNG tankers are being built.