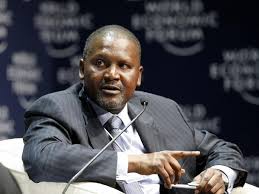 15 August 2014, Lagos – Dangote Cement Plc, yesterday, raised alarm over the continued short supply of Gas and Low Pour Fuel Oil, LPFO, in the country, saying the situation had gone from bad to worse in the last six months.
Lamenting the shortage of gas and LPFO supply in the country, Mr. Devakumar Edwin, Managing Director, Dangote Cement, said that if the situation was allowed to continue much longer, it will have adverse effect on industries and the recently privatised power sector.
He said most industries that relied on gas supply and LPFO to power their plants were suffering as a result of inadequate gas and LPFO supply, causing them to produce far below their installed capacity.
He said that the most unfortunate of it all is the fact that LPFO, which was supplied to industries from Kaduna and Warri refineries is now being imported by companies.
Mr. Edwin said that many of the power generating companies GENCOs, are already facing difficult times as a good number which borrowed money from banks are finding it difficult to meet their obligations to the banks because they cannot generate enough power due to lack of gas supply.
He said that many of the loans taken by these power operators may go bad and the Asset Management Company of Nigeria may be called upon to buy off these non-performing loans in banks.
But AMCON has already foreclosed further purchase of non-performing loans in Nigerian banks.
He, however, said that Lagos area was better served with gas supply, noting that other regions were worse for it. He said in order to combat the ugly situation, the Dangote Group has invested $250 million in a coal plant to power some of its operations.
He said the company had imported three 30 tonne-vessels of coal from South Africa to serve as fuel for the coal thermal plant the company had set up.
Mr. Edwin also said that "Dangote cement now imports LPFO or black oil and has rented a tank farm for the purpose in Apapa."
LPFO is mainly used in industries as fuel for generation of power or for firing their heaters. Allocation of the product was made to industries through marketers when the refineries were fully operational. HPFO at the time was mainly exported, but now the country has to import the product.
Edwin said that Dangote Group is concerned about the situation because of the long term effect the lack of gas and LPFO will have on the economy.
He said while large scale companies as Dangote can afford alternative power supply, the small and medium enterprises that are the engine of economic growth will be unable to do so.
This, he said, will hinder the prospects of job creation and compound the unemployment situation in the country. He said that if the situation is allowed to linger for a long time, more robbers and militants will dominate the nation's land space
– Vanguard