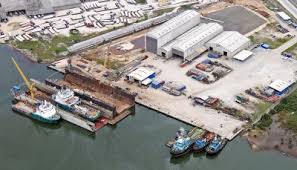 *Gives NPA seven days ultimatum over CSR
Mkpoikana Udoma
Port Harcourt — The Chairman of Eleme Local Government Area of Rivers State, Obarilomate Ollor, has called on the Minister of Transportation, Rt Hon Chibuike Rotimi Ameachi, to make Onne seaport viable and busy like Lagos port, if he means well for the people of the state.
Similarly, the Local Government boss has issued seven days ultimatum to the Nigerian Ports Authority, over alleged distribution of corporate social responsibility items to indigenes of the area who are solely card carrying members of the All Progressives Party.
Ollor while briefing newsmen after a meeting with the Port Manager of NPA Onne seaport, said it was regrettable that a federal entity like NPA would subject herself to be used by politicians to score cheap political points.
He said failure of NPA to issue an explanation after seven days, the Council will have no option but to explore every legal option to bring the Authority to book.
He said video evidence showed officials of NPA distributing sewing machines to APC party faithful in Onne as CSR, without the inclusion of members of the community who were non party members.
He wondered whether NPA was now a political organization, warning that such action was capable lof causing crisies in the area.
He said what the people of Onne community, Eleme and Rivers State need was a viable seaport and not sewing machines as CSR items, maintaining that it was an affront on the people to be given sewing machines in 2021 as CSR.
"A faction of the APC loyal to the Minister of Transportation, Rotimi Amaechi, flagrantly displayed items purported to have been given them by NPA and that created a lot of reaction from the people and as I speak to you now, our people are coming up with several positions that might lead to crises in the LGA.
"NPA is not a registered political party to participate or play politics. I have never heard of such thing before where an entity like NPA would support a political party and CSR items shared to party ward leaders.
"So we suspect that this may have been done to undermine the leadership of the Local Government Area and that of the Rivers State Governor, Nyesom Wike.
"So we came to demand answers, but the Onne Port manager has told us that the action did not come from them. So wherever it came from, we want NPA to explain to us why they should participate in politics in our place, because this is completely reprehensible and we will not accept it as a people. We will go all length with them to ensure that this act does not repeat itself. Because we are trying to build a society that is not divisive, but this act is capable of creating rancour, so whoever is behind it should come and explain to us.
"So we are accusing NPA of trying to create problems for our people. Is it because the Minister of Transportation is the leader of the group? If the Minister actually means well for his supporters in Eleme, he would have done better than that instead of giving them sewing machines in 2021 as empowerment.
"What we require from NPA if the Minster means well for the people is to make Onne port a busy port like Lagos and also give employment to our people in NIMASA, NPA and other agencies under his Ministry and also bring developmental projects not sewing machines.
"We want NPA to explain to us why they will be involved in politics, not just politics but factional politics of those loyal to the Minister and if they fail, between now and in the next seven days, we will have no option but to take a very legal position on this issue."