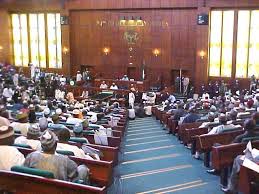 27 July 2013, ABUJA— THE Senate, Thursday, mandated its Committees on Finance and Petroleum, Upstream, to wade into the contentious $1.092 billion Malabu Oil Deal.
Senate President, David Mark, who brought up the issue before his colleagues, during plenary, said there was need for the upper legislative chamber to carry out a thorough investigation with a view to unravelling the circumstances surrounding the controversies in the issue.
Recall that the House of Representatives, had last week, summoned the Attorney-General of the Federation and Minister of Justice, Mohammed Adoke over a letter purportedly written to a foreign organisation, Global Witness, saying the House cleared him of any wrong doing in
deal.
The Royal Dutch oil giant Shell and Italy's oil major ENI, are being investigated by the British government for alleged money laundering over the Malabu Oil deal . The two oil firms with huge investment value in Nigeria are suspected to be connected to a money-laundering allegation related to the OPL 245 they bought from Nigeria for $1.3 billion.
*Henry Umoru & Joseph Erunke, Vanguard