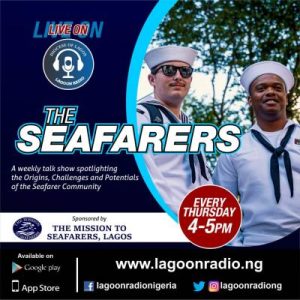 Vincent Toritseju
Lagos — Chair of the Nigerian chapter of the Mission To Seafarers, MTS, Lagos, Adebayo Sarumi, has said that operators and stakeholders in the Nigerian Maritime industry must support the humanitarian works of the Mission so as not to disrupt international trade.
Speaking to Newsmen at the Sea Sunday celebration of seafarers, Sarumi also said that the seafaring profession is one that can never be shut down adding that despite the challenges, they still keep international trade going.
According to Sarumi seafarers suffer from all kinds of situations some of which include depression, spiritual attack and sometimes become suicidal.
He said: "A ship travels all the world and sometimes the sailors see nothing except waters around them for six or more weeks.
"During which time they suffer, facing all kinds of depression, spiritual attacks and all sort you can imagine someone only seeing water around you for 6 weeks probably the water below him is about 10,000 meters deep and of course you cannot predict what the weather might be sometimes you can fall under extremely bad weather and then they travel very far from home and away from their families for so long so whenever they come in to the port that port, that port becomes a place of refuge for them.
"A port where they can find friendship, a port where they can find spiritual stability, a port where they can find psychological stability, this is what the mission to seafarers offers them whenever they come and we do it by visiting them, talking to them providing security, exchanging pleasantries with them and getting to know their problems.