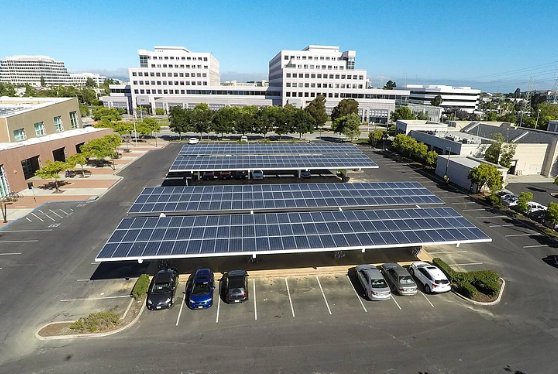 20 June 2018, Sweetcrude, San Jose, Calif. – MBL-Energy, a leading designer and builder of solar energy projects, announced today that it has received the first California Division of State Architects (DSA) pre-check certification issued under the newly released 2016 CBC compliance.
This certification will enable MBL-Energy to quickly move forward on the design and construction of parking canopies for California public schools and other public works by reducing the permitting approval time from up to one year down to five weeks, potentially saving schools thousands of dollars in energy costs during the process.
MBL-Energy received this certification by being the first to pass cyclical testing and meeting the rigorous project and safety requirements set forth by DSA.
An integral component of the new and existing DSA pre-check certification is the approval of MBL-Energy's patented UL-certified Beacon™ Clip, a best-in-class enhanced solar module attachment. Developed by MBL-Energy CEO Robert Laubach, the UL-certified Beacon™ clip uses proprietary technology that enables a more efficient and safe installation process on solar arrays. With a higher safety rating than required by the DSA, the Beacon™ Clip is ideal for carports on school campuses and related public work structures.
"Earning the first pre-check certification in California from the DSA based on the current and new guidelines is the culmination of months of planning, hard work, and coordination between MBL engineers, third-party testers and inspectors," Laubach said.
"The use of our Beacon™ Clip was an important safety factor in securing approval of both our earlier pre-check certification and the certification under the new DSA guidelines. The pre-check certification enables us to streamline the design and construction of carports for school districts and other public work structures, and can result in significant utility bill savings."
The DSA oversees construction projects on California K–14 campuses by providing plan review and approval, and construction oversight of projects, in response to applications from California school and community college districts.
DSA updates project pre-check qualifications based on current building code applications to meet standards agreed upon by a number of internal and external partners.
"Solar developers that receive DSA PC approval basically have structural permits, resulting in a significantly shorter project permit approval time than a non-certified project," said Inspector of Record representative Fred Wasinger.
"I have worked with MBL-Energy for 10 years on numerous projects of various sizes and scopes. Their depth of understanding of DSA is something that sets them apart from other contractors, and they consistently provide unparalleled and exacting work to our school districts."
To date, MBL-Energy has successfully completed 350MW of solar projects across California, of which 180 were DSA projects. This includes recently announced projects across six schools in the Santa Rita Union School District in Salinas, California, that integrates one megawatt of solar PV with 1.1 MWh of Sharp's SmartStorage energy storage systems to form solar plus storage microgrids, and with the Fontana Unified School District (FUSD) in San Bernardino County. For FUSD, MBL-Energy delivered 13.9 MW of solar PV and 6.1 MW of battery storage using Tesla's energy products for the district's 40 schools that is expected to save $1 million during the first year and a combined amount of $68 million over 20 years.
MBL-Energy
MBL-Energy (MBL), based in San Jose, California, is a design-build contractor specializing in the design and construction of solar energy projects. With more than 16 years of experience, MBL has designed and constructed over 350MW of solar PV, including parking canopies, roof mount, DSA, ground mount, specialty projects, and trackers. MBL takes an innovative and efficient approach to meet the demands of all projects. With our in-house design, project management, and construction teams, we adapt to an ever-changing solar construction industry, with efficiency and precision. MBL is dedicated to early technology adoption, uncompromising quality of materials, and maximum efficiency, to bring our customers a system that is accurately scoped, structurally sound, and financially viable, in a faster time to project completion.