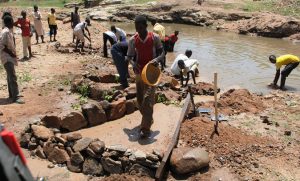 Lagos – The Federal Government has been called upon to tackle the country's insecurity problem and other hazards facing mining activities in the country.
The National Artisanal and Small-Scale Mining Cooperative Society made the call in a statement by its president, Alhaji Abdullahi Dantasidi, which was made available to newsmen in Lafia, the Nasarawa State capital.
The association also advocated the establishment of proper marketplace considerations that would ensure fair prices for products and protect miners from being shortchanged by buyers, including foreigners.
The statement partly read: "Our members are exposed to different manners of health and environmental hazards, insecurity threats among others because of the nature of the job and the location of the mining sites which are often in the deep forests.
"This appeal to you sir to take proactive action over the health, the safety of artisanal miners and the environmental situations in mining sites where they ply their trade by providing has become imperative to help provide safety kits and adequate security to my members".
It added: "An improved synergy between government and artisanal miners will go a long way in boosting the output of the sector and open doors of prosperity and fruitful engagement for both parties.
"This will not only be beneficial to all stakeholders in the sector but also lay a solid foundation for the younger generation who may indicate interest in the mining sector," he said.
"Lack of adequate support from previous administrations had led to huge losses with regards to income generated revenue, adequate skilled manpower among others hence the call on President (Bola) Tinubu to embrace a different approach on artisanal miners."
The miners, who urged cordial government-stakeholders' relationship to identify and resolve issues facing the mining sector, and move it to great heights, promised to cooperate with the government in that regard.
Follow us on twitter