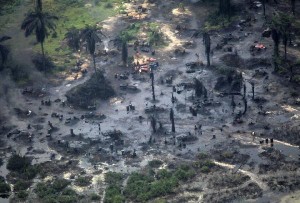 09 August 2014, Abuja — Minister of Environment, Mrs. Lawrencia Mallam on Thursday tasked oil and gas companies on the need to work with the federal government to eradicate oil spillage and its harmful effect on environment.
Mallam who spoke in Abuja at the commissioning/handover ceremony of Geographic Information System (GIS), laboratory and oil spill detection equipment installed at the National Oil Spill Detection and Response Agency (NOSDRA), said operators of the sector must join hands with government to ensure safe and cleaner environment.
She said, the projects which were funded by the Ecological Fund Office (EFO) would go a long way in making the job of NOSDRA easier and the environment better.
According to her, "it is hoped that NOSDRA would deploy the procured equipment into effective usage by ensuring the early detection of any act of spillage in any part of the country.
"We have monitored closely the execution of this contract by the contractor, and are glad to note that the contractor executed the project according to specification and that the test run of the equipments had yielded encouraging results.
– Daily Independent