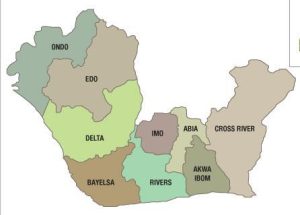 Mkpoikana Udoma
Port Harcourt — 
The Movement for the Survival of Izon Ethnic Nationality in the Niger Delta, MOSIEND, has urged governors of the Niger Delta states to collaborate with the
Niger Delta Development Commission
, NDDC, to fast track development in the region.
National President of MOSIEND, Mr Kenedy Tonjo-West, said the collaboration would drive rapid socio-economic and infrastructural advancement in the region.
Tonjo-West traced the developmental setbacks in the region to the Federal Government using the NDDC as an instrument for political patronage, a practice, which, he said, has not allowed credible appointees to serve out their tenure so as to implement their visions to fruition.
He noted that lack of synergy among the governors, the NDDC and youths groups is largely responsible for the duplication and abandoned projects scattered around the communities in the region, which the current administration of the NDDC is working to complete.
He said: "Also, lack of stakeholders' participation and structural engagement in the monitoring and evaluation projects and programmes, and also the total absence of synergy between the governors and NDDC board often because of party disparity or sentiments.
"We are impressed with the far reaching stakeholders consultations made by the Dr Samuel Ogboku-led NDDC in search for collective and all embracing solutions to addressing the teething problems of the region.
"It is our belief that the immediate engagement with the newly sworn in state governors will be an icing on the cake in their quest to promote  development that is cohesive in an all hands on deck approach."
MOSIEND called on ethnic nationalities and groups in the region to work towards promoting peace, security, development and harmonious coexistence with others to attract investors that would lead to employment and raise internally generated revenue of the region.
The group further urged governors elected in the region to unite and partner the Ogboku-led NDDC devoid of political party sentiments for regional growth.