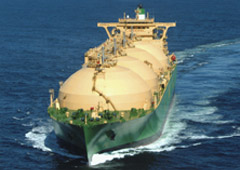 05 September 2013, Maputo — The production of liquefied natural gas, LNG, in the northern Mozambican province of Cabo Delgado could earn the country annual revenues in excess of ten billion US dollars, according to the Minister of Mineral Resources, Esperanca Bias.
Speaking at the opening of a meeting of her Ministry's Coordinating Council, in the town of Manhica, about 90 kilometres north of Maputo, Bias said that so far reserves of more than 95 trillion cubic feet of natural gas have been discovered in Offshore Area One of the Rovuma Basin, off the Cabo Delgado coast, and a further 75 trillion cubic feet in the neighbouring Area Four.
This quantity, she said, is enough for the construction of four LNG production units (trains) onshore, "with a total annual production capacity of 20 million tonnes, which could represent annual revenues of more than ten billion dollars".
The Rovuma Basin discoveries place Mozambique among the ten countries in the world with the largest known reserves of natural gas. Bias said this could allow, in the future, not only additional LNG trains, but also new industries (producing fertiliser or synthetic fuels, for example), which use natural gas as a raw material.
She announced that the government is drawing up a Gas Master Plan with the aim of laying down guidelines "for the best ways of using the gas, for domestic consumption and for export, so as to maximize the benefits, in favour of the social and economic development of the country".
As for coal, there are now three large open cast mines operating in Tete province. The latest, at Chirodzi, is run by the Indian company Jindal, and was formally inaugurated by President Armando Guebuza last month. It involves an investment of 180 million dollars and should produce 6.5 million tonnes of coal a year.
The Moatize mine, operating by the Brazilian company Vale, is now undergoing expansion, and Bias put total investment in the mine at four billion dollars. She expected its production to rise to 22 million tonnes a year.
The Benga mine, operated by the Anglo-Australian company Rio Tinto, has so far involved investment of 850 million dollars. It began production in May 2012, and produced 800,000 tonnes that year.
Bias added that a further four coal mining concessions have been approved, with total investment of over five billion dollars.
Viability and environmental impact studies have been concluded into the Chitongue iron ore (titanomagnetite) project also in Tete. Reserves are estimated at 270 million tonnes, and production of up to two million tonnes a year could begin in 2016. Subsequently production could reach four million tonnes a year.
Bias said that the presence in Tete of large amounts of coal, iron ore, electricity and water has led to proposals to set up an industry there producing pig iron.
The Minister said that efforts have been made to combat illegal mining and trafficking in minerals, but gave no figures as to how many people had been arrested, what equipment had been seized, and how much had been raised in fines.
She said the government recognises that small scale and artisanal mining can be an important source of income for rural communities, and was trying to persuade artisanal miners to organise themselves into associations, and to adopt environmentally sound mining technologies.