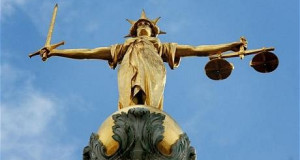 30 September 2014, Lagos ~ An Ikeja High Court monday issued a summons against a prosecution witness, Mr. Kehinde Akinmoloya, directing him to appear before it to testify in a fuel subsidy fraud case.
According to the News Agency of Nigeria (NAN), Justice Lateefat Okunnu issued the summons following a request by Mr. Rotimi Oyedepo, counsel to the Economic and Financial Crimes Commission (EFCC).
Akinmoloya, an engineer, had been scheduled to testify in the trial of an oil marketer, Opeyemi Ajuyah, accused of N1.1 billion fuel subsidy fraud.
Ajuyah and her company, Majope Investment Ltd., are standing trial alongside another oil marketer, Abdullahi Alao and Olanrewaju Olalusi, a staff of Sterling Bank.
At the resumption of proceedings yesterday, Oyedepo told the court that Akinmoloya, who is a principal witness in the trial, had refused to honour invitations to give evidence in the case.
"My Lord, the witness alleges that he has been threatened on several occasions and was attacked at his house only recently, but was lucky to have escaped.
"For this reason, he claims he is scared to appear before the court to testify," Oyedepo said.
He said in spite of several assurances the witness had refused to show up in court.
Oyedepo, therefore, urged the court to issue witness summons against the witness before the next adjournment.
The judge granted the request and directed the court registrar to issue summons against the witness.
Earlier, an EFCC investigative officer, Mr. Effa Okim, was re-examined on his initial testimony before the court by the defence lawyers.
Okim had on May 27 testified that the defendants had claimed that they imported 15,000 metric tonnes of PMS and thereafter collected the subsidy.
He said it was later discovered that the ship — MT Brave — only discharged 4,264 metric tonnes at the Lister Jetty in Apapa.
The investigative officer said the remaining product was diverted to an unknown destination which eventually implicated the company in the subsidy fraud.
However, cross-examining Okim, Ajuyah's counsel, Mr. Olarenwaju Ajanaku, argued that the EFCC failed to do a thorough investigation on the transaction.
Also, Alao's counsel, Mr. Aderemi Oguntoye, was granted permission to cross examine the witness based on some new documents which he tendered before the court.
During the cross-examination, Okim insisted that the documents were authentic and formed part of witness' statements taken during the course of his investigation.
The case has been adjourned to September 30 for continuation of trial.
~ This Day