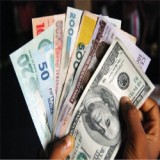 21 August 2014, Lagos – The naira was unchanged at N162.15 to the greenback at yesterday's market close, as dealers maintained their positions in anticipation of United States dollar supply from oil companies next week.
According to Reuters, the unit closed at N162.13 the previous day, broadly at the same level as yesterday.The naira gained 0.11 percent on Monday after some lenders sold the greenback to stay within a regulatory limit.
Dealers said demand for hard currency had weakened after an initial rise last week as importers locked in at favourable exchange rates following a recent naira rally.
"We expect the naira to trade within the present band of N162 to the dollar this week," one dealer said, adding that it could strengthen as oil companies start their month-end dollar sales.
The local currency eased to a five-week low against the US dollar two weeks ago but recovered some ground last week after some oil companies sold the greenback, including the state-owned oil firm NNPC.
Nigeria's inflation rate advanced for a fifth month in July, to 8.3 per cent from 8.2 per cent a month earlier, the National Bureau of Statistics said on Monday. Analysts argued that the overall details of the inflation figures suggested that inflationary pressures may be moderating.
"Surprisingly, given the overlap between Ramadan and July, food prices did not appear especially pressured. There are some signs that core inflation is moderating.  Core CPI eased to 7.1 year-on-year in July, rising only 0.2 per cent month-on-month. This was due to slower price increases in a range of items – including clothing and footwear, housing, water and electricity and gas and other fuel.
"With 12 months inflation running at eight per cent in July, we see little change in policy soon, despite still-liquid market conditions," Managing Director/Head, Africa Research, Standard Chartered, Razia Khan had noted.
– This Day