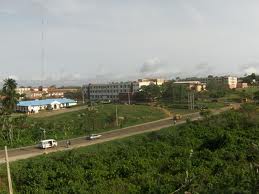 11 September 2012, Sweetcrude, AKURE – THE Nigerian Association of Petroleum Explorationists, NAPE, has solicited the support of the Ondo State government in its activities.
The leadership of the association recently visited the Executive Governor of Ondo State, Dr. Olusegun Mimiko in Akure, ahead of its annual international conference and exhibition
Led by its president, Dr. Mayowa Afe, the NAPE team had earlier on arrival to Akure, paid homage to the Deji of Akure, Oba Adebiyi Adesida, at his Palace.
The team was received warmly by the traditional ruler, who praised NAPE for its achievements since inception.
In his speech at the Governor's office, Afe commended the governor for the high infrastructural strides he has been able to undertake in the state. He described Ondo State as a fertile land for investors, especially in oil and gas.
He urged the government to ensure proper demarcation of its territory in order to curb loss of resources as recently witnessed in Cross Rivers State as result of the Supreme Court decision ceding 76 oil wells originally belonging to the state to neighbours, Akwa-Ibom.
The NAPE president also noted that a larger portion of Ondo State's resources were yet to be exploited, and promised that NAPE will work closely with the government for mutual benefits and relationship.
He officially invited the governor to the NAPE international conference and exhibition.
In response, Governor Mimiko expressed optimism that the proposed Petroleum Industry Bill, PIB, which is expected to transfer the management of bitumen from the Ministry of Solid Minerals to the Petroleum Ministry,will improve the state's economic status.
The governor also assured of his government's collaboration with NAPE in order to attract more investors to the state.
As a mark of honour, the NAPE President decorated the governor with the NAPE lapel and presented him some of the Association's publication; while the Vice President, Seye Fadahunsi also decorated the Deputy Governor, Alhaji Ali Olanusi.
Other top government officials were decorated by the NAPE fellows that were part of the team.