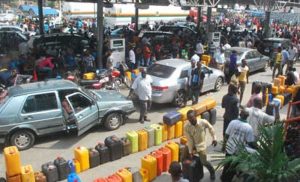 Abuja — The National Association of Road Transport Owners, NARTO, has warned its members against involvement in diversion of petroleum products.
NARTO President, Yusuf Othman, gave the warning in Abuja in reaction to the lingering fuel crisis in the country.
Advising members of the association involved in the transportation of products to avoid involvement in diversion, he said this was necessary to arrest the scarcity of the product in parts of the country.
"Let me use this opportunity to call on our law-abiding and patriotic members who are into the transportation of petroleum products to please desist from illegal bunkering, smuggling and diversion of petroleum products.
"This is because these actions are detrimental to the economy of our great nation. This association will not support, defend, or sympathise with anyone caught committing these crimes," Othman said.
He absolved the Nigerian National Petroleum Company, NNPC, retail company of infraction regarding the fuel crisis, saying: "The NNPCL retailers are the largest retail outlet in the country.
"As of today, they are the only marketing company that sells fuel at the same price everywhere in Nigeria, the same price in Lagos, same price in Abuja.
"So, you will see some envy by other marketers and from experience, personally my own company has been working with NNPC retail in the last 15 years. I know their pedigree and their capacity."
Follow us on twitter