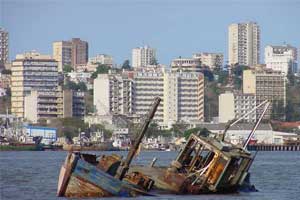 04 May 2014 – Maputo — The distribution of natural gas by pipeline to consumers in Maputo City will begin in June, covering 200 consumers in the initial phase, according to Paulino Gregorio, the Director for Engineering and Development Projects of the National Hydrocarbon Company (ENH).
Budgeted at 38 million US dollars, and financed by the South Korean gas company Kogas, the pipelines, construction of which began in March 2013, are 62 kilometres long. They run along several Maputo thoroughfares and end in the district of Marracuene.
Speaking to reporters on Wednesday, during a visit to the gas pressure reduction station, Gregorio said that only 12 per cent of the pipelines remain to be installed, and he believed this work would be concluded in the next two or three weeks.
"In May, the entire first phase of the Maputo City gas distribution project will be concluded", he said. Tests of the pipeline would follow, and the actual supply of gas to consumers is expected to begin in early June.
The gas is carried by a pipeline from the adjacent city of Matola to the pressure reduction station (on a plot of land once occupied by a derelict coal-fired power station). The gas originates from the treatment plant at Temane, in Inhambane province, operated by the South African petrochemical giant, Sasol. The equipment at the pressure reduction station will pump 40 million gigajoules of gas a year.
The 200 consumers in the first phase will be mostly hotels, restaurants and industries. In a subsequent phase the gas will be pumped to homes, and ENH reckons that around 68,000 households living in the area covered by the distribution network can be reached.
As for costs, Gregorio said that ENH estimates that using natural gas rather than butane could cut a household fuel bill by 14 or 15 per cent, while savings for industries could be much greater.
But the main problem is the initial capital cost of the gas connections to homes. All the material used is imported, and costs for such a connection vary between 1,000 and 3,000 US dollars, much more than most households could afford. Gregorio said EH looking at possible partnerships or subsidy mechanisms which could solve this problem.
The advantages of using natural gas, he pointed out, are that it will be on tap 24 hours a day, and households will no longer have to keep buying bottles of propane.
Gas is also much less damaging to the environment than charcoal or firewood. If industries such as bakeries, which currently use wood fuel, switch to gas, this will lessen the pressure on forests in the