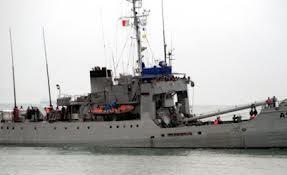 12  May 2014, Lagos – A Naval vessel identified as Nigerian Navy Ship (NNS) Encounter, an Offshore Maritime Security (OMS) patrol vessel, went up in flames and sunk while at sea patrolling the waterways to keep the maritime corridor safe.
Luckily however, no fewer than 13 persons on-board survived and were rescued after floating for hours on the open waters outside bar at Lagos Anchorage by Naval personnel who were alerted by a canoe operator passing by.
It was gathered that the vessel which was on patrol, had run into hitches at the Lagos Anchorage when a minor electrical fault snowballed into a huge fire that almost claimed the lives of the 13-man crew.
THISDAY further gathered that the fire which started from an electrical wire, exacerbated when it touched the foams that line the electrical wires and it soon spread to all parts of the vessel.
Initially, attempts were made by the crew to put out the fire but when the fire proved resistant and showed signs of exploding, they jumped into the water, not minding the depth of the sea.
Although the identity of the rescuers were not ascertained as at press time, THISDAY gathered that they were intelligence personnel, who sailed with small rafts to the accident scene to rescue the victims.
Speaking on strict condition of anonymity, a Naval personnel told THISDAY that although the vessel was actually an OMS ship, it was called Nigerian Naval Ship (NNS) Encounter.
He said: "The incident happened outside bar at exactly 13 nautical miles from the naval jetty at NNS Beecroft. Before they were rescued, they floated for over two hours and would have suffered from hypothermia if they had stayed even longer.
"They couldn't even call for help because they were out of network area and even if there was network, they had nothing on them because they fled as soon as it dawned on them that there was nothing they could do to extinguish the flames.
"By the time, the rescue team got there, some of them were almost giving up hope. They were taken straight to the hospital for treatment before they were released."
Although a board of inquiry has been set up soon after the fire incident, attempts to get information on the level of investigation from the Commander NNS Beecroft, Commodore Ovenseri Uwadaie, proved abortive as he did not respond to the text message sent to his phone.
– This Day