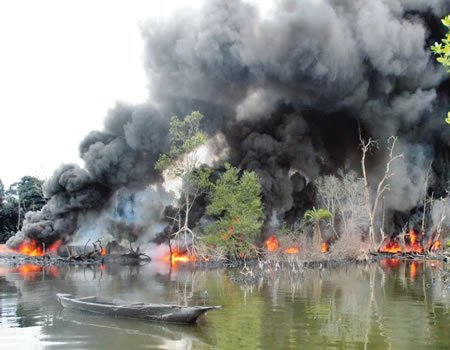 *Arrests 4,229 suspects
Lagos — To ensure security of vessels in the nation's corridor of the GOG as well as its maritime domain, statistics showed that the Nigerian Navy had in five years arrested 4,229 suspects in connection with maritime illegalities.
These suspects included foreign nationals from different continents of the world, including Nigerians.
In one of the arrests, an American, four Greeks and five Nigerians were nabbed within
Lagos state, at the end of the maiden joint military operation code-named Operation Junction Rain, initiated by United States Navy/Coast Guard, to deter pirates and other maritime criminals from operating on the nation's water and the Gulf of Guinea.
Records also showed that in the last five years, 553 pirates attacks had been recorded.
A breakdown of the attacks showed that 339 attacks were recorded in the GOG's corridor and 214 within Nigeria waters. There were 107 sea robberies recorded within these years.
Available statistics also revealed that 404 vessels were arrested , out of which 13 were forfeited to the Federal Government .
In addition, 439 barges, 531 speed boats , 2, 977 wooden boats , including 140 tankers and 404 vehicles used for the illegalities , were impounded. All the wooden boats have reportedly been destroyed.
Also, 5,099 illegal refineries were destroyed within the period under review, with 3,136,887barrels of crude oil, 1001564 Automotive Gas Oil, AGO, 2,591,907 Premium Motor Spirit, PMS and 3,574,360 Dual Purpose Kerosine, DPK destroyed .
In year 2019 alone, 63 illegal refineries were destroyed in Yeye community and Benneth Island, both in Delta State. In that operation, 1,984 storage facilities containing 8,610
metric tonnes of stolen crude oil, including 5,602 metric tonnes of illegally refined petroleum products and 80 wooden boats used to convey illegally refined products from the camps to ready buyers, were confiscated.
In addition, 77,680 bags of rice approximated at N1.6 Billion, were intercepted in five years.
The arrests, as gathered, were made possible with the acquisition and renewal of the fleet by the Nigerian Navy.
For instance, our checks revealed that 305 small ships and Inland Patrol Crafts below 35 metres, including 14 Houseboats, four Badges/Tugboats and 11 Capital Ships above 35 metres, were procured in five years.