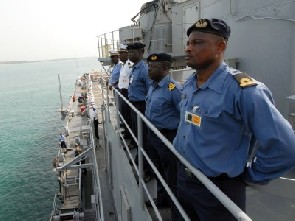 15 August 2013, Abuja – The authorities of the Central Naval Command of the Nigerian Navy has sparked off a row with the Joint Military Task Force, JTF, code named Operation Pulo Shield over alleged false claim of a rescue operation to save a crude oil-laden barge that ran aground at the St. Nicholas River in Bayelsa State.
The peace meeting at the JTF Headquarters, according to top security sources, over the row provoked between the Navy and the JTF over the arrest of the grounded barge and the crew of a tug boat boat accused of trying to pull the barge and it's alleged stolen content failed.
The Navy said though the Security agencies in the Niger Delta collaborate in the security campaign against Crude Oil theft , the claim by the JTF that the rescue operation was to save the barge was wrong as the barge filled with stolen crude oil, abandoned by oil thieves and arrested by the operatives of the Navy attached to the Forward Operating Base, FORMOSSO.
The Media Coordinator of the JTF's headquarters, Lt.Col.Oyenma Nwachukwu, had weekend in Yenagoa, confirmed that the maritime component of JTF was assisting in the rescue operation in collaboration with oil industry operators and ensure that oil thieves did not tamper with the crude oil on the barge.
– Osa Okhomina, Leadership