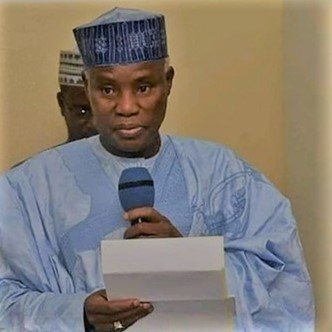 Mkpoikana Udoma
Port Harcourt — As part of its measures to ensure maritime safety and security, the Nigerian Navy, on Friday took delivery of her first ever purpose-built offshore survey vessel, NNS Lana, in Saint Nazaire, France.
Minister of Defence, Major General Bashir Magashi (retd), said the new vessel was conceived as a replacement for the previous NNS Lana, a survey ship which was decommissioned 10 years ago.
Magashi represented by the Chief of Naval Staff, Vice Admiral Awwal Gambo, said that the occasion marked a great milestone in the fulfilment of the dream enhancing Nigerian Navy's survey capability.
Highlighting the import of having a survey vessel like NNS Lana, the Defence boss said that survey services and charting waterways play a crucial role in ensuring safe navigation as well as delivery of maritime security.
"NNS Lana will not only enhance the safety of Nigeria's maritime environment but the ship will serve as a critical component in the projection of naval power for enhanced maritime security in the Gulf of Guinea.
"It will also play a critical role in protection of maritime resources and preservation of law and order at sea, thus contributing significantly to promotion of global maritime commerce."
He therefore specially thanked President Muhammadu Buhari for his commitment towards the recapitalization of the Nigerian Navy Fleet.
The Minister explained that the choice of France's Ocea by the Nigerian Navy to construct the new NNS Lana, was based on the company's track record of high quality ship building capacity, as well as the belief in the Company to adhere to agreed timeline.
"Suffice to state that the construction of LANA by Messrs OCEA is much more significant bearing in mind that this has been achieved despite the disruptions caused by the COVID-19 pandemic.
"The acquisition of NNS Lana brings to 18 the number of OCEA platforms in the Nigerian Navy's inventory. The new NNS Lana (A499) is designed and purposely built to enable the Nigerian Navy conduct hydrographic and oceanographic surveys.
"It is also capable of conducting geophysical studies, search and rescue operations as well as patrol duties. The Ship is equipped with state-of-the-art modern survey equipment as well as a well-equipped 7.6m surface vehicle for shallow water surveys.
"Expectedly, NNS Lana would join the Nigerian Navy Fleet in May 2021. It is envisaged that the rebirth of NNS Lana would afford the Nigerian Navy hydrographic department the leverage to successfully and systematically conduct hydrographic surveys and charting of Nigeria's waters.
"It would also afford Nigeria with the opportunity of keying into the General Bathymetric Charts of the Oceans Seabed 2030 project and the Global Multi-Resolution Topography synthesis project, for maritime safety and security."