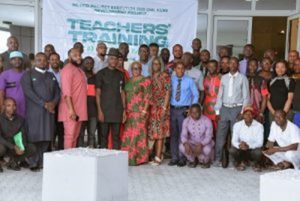 Oritsegbubemi Omatseyin
Lagos — The Nigerian Content Development and Monitoring Board, NCDMB, in conjunction with First E&P Development Limited, has organised a three-day training programme for teachers of post-primary institutions at the Nigerian Content Tower, Yenagoa, Bayelsa State.
No fewer than 80 teachers benefited from the training, which was geared towards engendering interest in academic subjects that would guarantee a steady supply of critically needed expertise for oil and gas industry operations.
As part of the training, the teachers were exposed to all-in-one educational devices that enhance the teaching and learning of science, technology, and mathematics (STEM).
The teachers were also introduced to 'K-Yan,' defined in the technology world as "an Interactive Teaching Learning Platform" that "incorporates the utility of a fully functional computer, high luminosity projection system, large screen television, DVD player, in-built audio system and an Internet browser, all integrated into a single compact unit," with the acronym, CSRBOX.
Speaking at the opening ceremony, the Director of, the Capacity Building Directorate in  NCDMB, Dr. Ama Ikuru, said STEM education has been the focus of the NCDMB over time in line with its core mandate to develop indigenous capacities and capabilities for the industry.
He recalled that NCDMB has undertaken several capacity-building programs for teachers aimed at exposing them to trends in technology because there are evident deficiencies in the quality of education from the formal school system that needs to be remedied. According to him, "Most of the people coming out of school are not ready for the [oil and gas] industry."
In explaining the attention being paid by the Board to teachers, Dr. Ikuru noted that their educational standards determine the quality of products from the school system. "We are as good as our teachers make us be," he posited, hence the necessity of upskilling them consistently.
General Manager, Corporate Communications and Zonal Coordination, Mrs. Angela Okoro, emphasised that the training was very important not only to the teachers but to the NCDMB and the wider society while urging them to strive to make the most of the opportunity provided. "You'll get all the attention you need," she assured while encouraging them to freely express themselves wherever they encounter difficulties in the course of the training.
She disclosed that some of the facilitators were Indians and that they would be participating in the training online.
The Manager of Capacity Building, Mr. Timbiri Augustine, told the teachers that human capacity development is at the heart of the operations of the NCDMB and that the Board is passionate about promoting STEM education because it determines how successful or otherwise an individual or corporate organization could be in the industry.
"Your operations and services are driven by science," he reiterated and urged them to "remain committed to the training programme from the beginning to the end."
Follow us on twitter