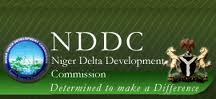 MKPOIKANA UDOMA 17 August 2014, Sweetcrude, Port Harcourt –
The Niger Delta Development Commission, NDDC, has announced that its 2014 budget is geared towards addressing the goals of the consolidation phase of the Niger Delta Regional Development Master Plan, which is now in its seventh year.
The NDDC, in a statement issued in Port Harcourt by its Head of Corporate Affairs, Mr. Ibitoye Abosede, said the announcement was part of the highlights of the presentation made by the commission's managing director, Sir Bassey Dan-Abia, to members of the House of Representatives' Committee on NDDC at the National Assembly complex in Abuja.
According to the statement, "The thrust of the 2014 budget would be to consolidate the commission's efforts in "employment generation, wealth creation and poverty alleviation" which were the focus of previous budgets. The budget, tagged "Budget of Recovery and Restoration", would leverage on human capital development, job creation and partnerships in line with Mr. President's transformation agenda".
"The NDDC boss reviewed the achievements of the commission in the 2013 budget year. In the year under review, he said that skills acquisition programme empowered 500 youths in welding and fabrication, as well as driving entrepreneurship development.
"He further said that 500 farmers received subsidised inputs while over 2,000 young men and women across the region were trained in agricultural methods and provided with starter kits for fishery, snail keeping and animal rearing," the statement said.
It stated that the commission under Dan-Abia had already introduced some human capital development programmes that would have great impact on the Niger Delta in the years ahead.
According to the NDDC boss, "some of them include the entrepreneurship development and empowerment programme; NDDC post-graduate scholarship scheme, women training etc. The strategic aim is to create necessary interface with the industry that will engender effective engagement of these youths and women after their training.
"Our belief is that we need to continuously build the capacity of our people in line with the recommendations of the Niger Delta Regional Development Master Plan."
The statement added that the NDDC has also constructed about 550 kilometres of roads, delivered four new 500-bed hostels to four universities in the region, undertaken the construction and repairs of specialist hospitals and cardiovascular hospital in partnership with private sector service providers, completed over 50 water schemes in addition to providing electricity to about 70 communities in the region