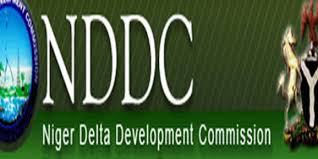 Mkpoikana Udoma
21 March 2018, Sweetcrude, Port Harcourt — The Niger Delta Development Commission, NDDC, has called for a partnership with the Nigerian Football Federation, NFF, in its plans to set up two football academies in the Niger Delta region.
NDDC Managing Director, Mr. Nsima Ekere, made the proposal when the NFF President, Mr. Amaju Pinnick, led a delegation of the federation to pay him a courtesy visit at the Commission's headquarters in Port Harcourt.
Ekere said that NDDC would encourage Niger Delta youths to take to football as a profession and that was the essence of setting up the football academy.
"I want to invite the NFF to collaborate with NDDC to support the game of football in the Niger Delta. We are in the process of setting up football academies in the Niger Delta region. The NDDC Board has already approved it and we want to start with two football academies.
"We believe that it is one of the ways of taking our youths off militancy and getting them meaningfully engaged. We hope to give them the opportunity to develop their talents and empower them because football is now big business and a good source of employment.
"That is why we need the technical support of the NFF so that the venture will become a success. There will also be a need to link up the beneficiaries of the academies to international opportunities."
Ekere noted with pride and admiration the way the NFF had piloted football administration in the country, stating that football was a unifier for Nigerians and they were indeed passionate about it.
He expressed delight that the NFF had been able to tap into the talents of Niger Delta youths, giving them the inspiration and support they needed to excel in the game.
"I am looking forward to the day Nigeria will win the World Cup. The NDDC will stand by the NFF as it marches to the World Cup in Russia. We will work with NFF to make sure that the Nigerian team comes out in flying colours," Ekere said.
Earlier, the President of NFF, Mr. Amaju Pinnick, acknowledged the role of NDDC in developing the Niger Delta region.
Pinnick also explained that 50percent of players in the national team were people from the region, adding that, the region has produced more captains for the national teams than any other region.
"I am proud to say that the nines states of the region account for about 50 percent of all the players in our national teams. Even for the inaugural Under-17 team that won the World Cup in 1985, Niger Delta provided most of the players.
"It is a region that is very well endowed. We want to prepare the players properly and we want NDDC to support us to produce productive youths in the oil-rich region," Pinnick said.