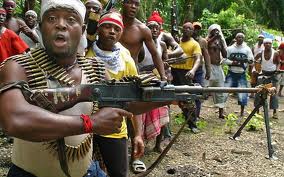 12 March 2013, Yenagoa – EX-Niger Delta militants, who did not benefit from Federal Government's amnesty programme have issued a seven-day ultimatum to the government to admit them into the programme.
In the ultimatum, issued on Monday, the ex-militants said they would no longer guarantee the security of oil installations if the government failed to register them in the amnesty programme.
In a statement issued in Yenagoa by 'General' Inami David, the ex-militants said they deserved to be registered, having surrendered their arms.
According to David, their expectations were dashed by the Federal Government team which carried out the verification and documentation exercise.
He said the team that carried out the exercise at the Sector 2 Command Headquarters of the Joint Task Force in Yenagoa, was biased, accusing its members of placing some camps ahead of others.
"We the aggrieved persons in the just concluded verification and documentation exercise are giving the Federal Government seven days to contact us and include us in the amnesty programme.
"Unless this happens, we will have no option but to resort to other means to get our grievances addressed, which will be of dire consequences to the Federal Government," he said.