29 September 2014, Asaba – Moved by the need to improve on the socio-economic lives of states in the mandate area of the Niger Delta Development Commission, NDDC, the commission's Advisory Council comprising governors of the NDDC states, Chairman of the board and its Managing Director, weekend met in Asaba, Delta State to plan on how the commission could serve the people better.
The closed door meeting which lasted for over three hours was hosted by the Advisory Council Chairman, Dr. Emmanuel Uduaghan. Those in attendance included Dr. Olusegun Mimiko (Ondo), Senator Liyel Imoke (Cross River), Chief Henry Dickson (Bayelsa), Mr. Rotimi Amaechi (Rivers), who was represented by his Deputy, Chief Theodore Orji (Abia) Mr. Tuoyo Omatsulu (ED Projects, NDDC).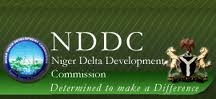 Briefing newsmen, Governor Uduaghan, said the meeting was to fashion out more robust ways to move the commission forward.
"The Advisory Council met, consisting of the nine Niger Delta states governors, the chairman of the board of NDDC and the Managing Director of NDCC with the secretary of the council. We hold our regular meetings and today (yesterday), we held another one. Governor Mimiko of Ondo State, who gave details of the meeting, said a meeting for the development and creation of jobs in the region was held with the board.
Mimiko said: "As the chairman said, we held another meeting today (yesterday), we had got a briefing from the board, the chairman of the board and the Managing Director. Mainly, they gave us an insight into their programmes and their budgetary proposal but essentially the funding challenges that they have. We are looking at all of these to see how we can help them to leverage some of the outstanding funds among other zones from the oil majors, who are supposed to make some contributions to NDCC."
– Vanguard