21 April 2016, Abuja — The Nigerian Association of Energy Economics (NAEE) which is an affiliate of the International Association of Energy Economics (IAEE) wednesday said Nigeria's currently fluctuating oil production level of 2.4 million barrels per day (mbpd) may not be enough to guarantee any sustainable economic development for the country.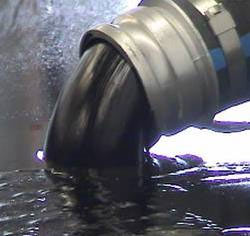 The NAEE also asked the federal government to take advantage of the opening that the current dip in prices of crude oil in the international market presents to deregulate the country's downstream oil sector as well as effectively diversify Nigeria's economy horizontally.
The president and chairman of NAEE governing council, Prof. Wumi Iledare, said this when he briefed journalists in Abuja on the programmes of the association's forthcoming international conference.
He stated that the conference will specifically concentrate on the roles that natural gas and renewable energy can play in energising the economies of developing countries like Nigeria.
NAEE's assertion is coming at a time Nigeria gave up her top oil producer status in Africa to Angola, having lost some production quantities lately.
Latest data from the April Monthly Oil Market Report (MOMR) of the Organisation of Petroleum Exporting Countries (OPEC) showed that Nigeria's crude oil production fell by 67,000 barrels per day (bpd) in March from 1.744 million bpd 1.677mbpd, while Angola saw its oil output rise to 1.782mbpd within the same period.
Iledare however said: "2.4 million barrels per day of crude oil production is not enough to take this economy to where the government plans it to be."
He added that the situation hadbecome more complex and difficult for the country with the current drop in crude oil prices, and that the country had shown less concern about using her oil resources to develop her economic capacities.
Iledare further stated on the impacts of the price drops to Nigeria and what it should be doing now: "Permit me to use this opportunity to reiterate some perspectives that we have offered or shared severally in the past, on the declining trend in crude oil prices and its implications on the economy of Nigeria.
"Low oil prices should be viewed as an opportunity to diversify the economy of Nigeria and to do away with the 'Gorilla' called petroleum subsidy.
"Also in our opinion, low oil prices offers Nigeria an opportunity to cut wastage in spending; set aside fiscal irresponsibility; reduce overdependence on oil; and get rid of bloated governance spending expenses," he added.
According to him: "With requisite political will, Nigeria needs to take advantage of the low global oil price regime to allow the pump price of petrol in the Nigerian petroleum products market determine the prevailing market clearing price, or adopts petroleum products export parity pricing mechanism to set its price.
He said: "This may facilitate bidding farewell to petroleum subsidies permanently in Nigeria, while offering a unique opportunity to deregulate the downstream oil and natural gas markets."
Iledare also picked holes at the current institutional governance structure of the country's petroleum sector, saying it is amorphous, weak and confusing.
"Over the years, the policy, regulatory and commercial institutions are indistinguishable and the delineation of roles remains elusive. The way forward is simple: agencies and parastatals responsible for the governance of resource sectors need to be autonomous and independent, with adequate funding for operations.