28 November 2015, Nsukka – The Senior Staff Association of Nigeria Universities (SSANU) has said that mass unemployment looms in the country following epileptic power supply that is hampering the operations of industries.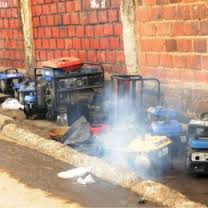 National President of SSANU, Comrade Samson Ugwoke who raised the alarm at the SSANU 2015 National Delegate Conference holding at the University of Nigeria, Nsukka (UNN), Enugu State, said many industries have started laying off workers which has adverse effects on the the country.
Comrade Ugwoke also berated state governors that recently said that they would meet with President Muhammadu Buhari on the possibility of stopping the payment of the agreed N18,000 minimum wage, saying that such plan was unreasonable.
According to him: "The nation's economy would be better when we have the right people at the right places. We looked at the Treasury Single Account (TSA) and we've seen the effect.
"What some of us thought was that they would have made a trial elsewhere with one or two ministries to see how it wiould go before applying it at the national level."
He further lamented over the perennial fuel scarcity in the country, noting that as a country that produces oil, there was no reason for the people of Nigeria to witness such scarcity.
He said: "Up till now, we are still having fuel scarcity because the government had not done what it is supposed to do. We are talking about anti-corruption; we have not seen anything there.
"That one or two people have been prosecuted is not enough to say we are fighting corruption. There is still oil bunkering, people are stealing the crude oil; a country that produces oil does not have oil. I bought fuel at almost N200 in Nigeria, and we are talking about economy.
"Industries will sack their workers sooner or later because there is no power; the power level is still low. An economy that is generator-based cannot guarantee companies to produce at 100 percent, and it is the workers who are suffering.
"So if a businessman cannot make profit, he will reduce workers and these people will come back to be unemployed, increasing the poverty level in the country. So government must look at the economy; we must go agro-base. We are blessed with arable land, including 6 to 10 months rain.
"So, why can't we feed ourselves and other African countries? Even as we produce quality graduates, we can export them for money, and the economy will be boosted; and a situation where Chinese vulcanizers will come to Nigeria and be called engineers is not acceptable," he said.