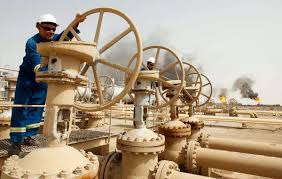 21 September 2016, Abuja – Despite sporadic attacks on facilities in the Niger Delta, Nigeria's oil production has increased from a daily average of 1,570,852 barrels per day in the last three weeks to a current production of 1,752,536bpd, recording additional 181,684 barrels per day, Minister of State for Petroleum, Dr. Ibe Kachikwu, has said.
The Minister, who gave the figure at the Presidential Quarterly Briefing with the Private Sector Stakeholders at State House on Monday, attributed the increased output to current ceasefire efforts his office initiated with traditional rulers and leaders in the Niger Delta.
Kachkwu said that with sustained peace in the Niger Delta, it would be possible to grow production to N1.8 million barrels per day by next month and reach 2 million bpd by December.
He announced that to ensure stability in the oil sector of the economy, the Federal Government would work with the National Assembly to fast-track the passage of the Petroleum Industry Bill, PIB, which had been facing difficulty of passage since the previous National Assembly.
Other measures being contemplated by the government to shore up the oil sector, according to the minister include the review and gazetting of existing policies and introduction five new regulations to provide clarity on the position of government with respect to the management and development of the sector, building of capacity and capability to entrench professionalism and improve productivity in the sector. Others are: Continuing to attract investment into a portfolio of high value projects and translating the $80 billion worth of MOUs signed at the China Investor Road Show to oil and gas projects and intensifying the dialogue approach with the traditional chiefs/leaders from the Niger Delta.
Kachikwu said at the meeting: "Reforms are often not easy because they cause change, sometimes dislocation and inconvenience, but for our industry I am encouraged that we have the determination to see through the structural changes that are needed to create the conditions for prosperity in the near future. The lessons of the past ought to enable us respond decisively."
The minister listed the challenges confronting the oil and gas industry and the Nigerian economy as militancy leading to drop in daily production levels, the inability of government to meet joint venture funding obligations in the upstream and job losses in exploration and production companies as well as oil service firms. "It has, therefore, resulted in oil and gas production decline and loss of crude oil and petroleum products. In addition, the Niger Delta crisis has resulted in loss of lives, high cost of operations, fuel shortages and environmental degradation," he said.