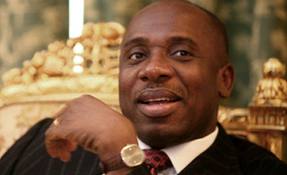 Ben Agande
30 January 2013, Sweetcrude, Abuja — President Goodluck Jonathan has approved distribution of $1billion from the excess crude account among the 36 States and FCT.
This was part of decisions taken at the National Economic cCouncil at its first meeting for the year.
Governor of Rivers State Rotimi Amaechi who briefed newsmen after the meeting said there is a total balance of $9.242 billion, in the excess crude account after $1billion was spent on subsidy payments by the Federal Government.
Governor Amaechi said the council was briefed by the Minister of State for Finance, Dr. Yerima Ngama.
He said the Minister of National Planning, Dr. Shamsuddeen Usman, also presented a memo to the Council on the status of the on-going implementation of the States GDP Computation programme embarked upon by the Commission, the National Bureau of Statistics, the Governors' Forum and the States.
The governor said the Minister informed the Council that following the successful completion of the flag-off of the State GDP computation in the six pilot states, the NBS is now working closely with the States' statistical bureaux/agencies to conduct the survey and publication of data on the GDP computation for the six states. The states include  Niger, Rivers, Gombe, Anambra, Kano and Lagos.
The governor quoted the Minister as saying that the States' GDP computation programme is being implemented in two phases with the first phase which covers the six pilot States in each of the geopolitical zones due to be completed in April.
The second phase of the programme, the governor said, is to cover the remaining States, from April – December, 2013.
He said the Council reiterated the endorsement it had given to the roadmap, when the matter was first presented to NEC in July 2010.
The Council encouraged the States to work closely with the National Planning Commission and the NBS to address the identified capacity and infrastructure related gaps in the States' Statistical Bureau and Planning Commissions in order to ensure the sustainability of the States GDP computation programme in Nigeria.