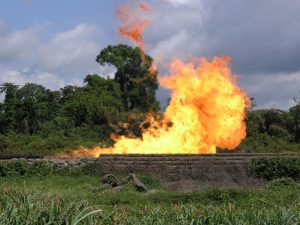 OpeOluwani Akintayo 10 August 2017, Sweetcrude, Lagos – Nigeria earned over N18 billion on gas flared penalty from 2010-2015.
Data obtained by SweetcrudeReports showed that in 2010 the country earned N2,388,572,351 while in 2011, it earned N3,482,627,975.
In 2012, Nigeria raked in a total of N3,849,873,091 on gas flared and in 2013, it earned N3,120,786,665 on gas flared.
In 2014, the country earned in revenue, N2,930,215,304 on flared gas and in 2015, N2,590,365,296.
Revenue earned on gas flared during the five year reviewed totaled N18,362,440,684. Nigeria is one of the countries that flare most natural gas associated with oil in the world, with estimates suggesting that of the 3.5 billion cubic feet (100,000,000 m³) of associated gas, AG, produced annually, 2.5 billion cubic feet (70,000,000 m³), or about 70%, is wasted by flaring.
However, in April this year, the Nigerian National Petroleum Corporation (NNPC), announced it had succeeded in reducing gas flaring in the country by 26 percent in the last ten years, from 36 percent to 10 percent, pushing Nigeria down from the second highest gas flaring nation in 2006 to the seventh position in 2016.
Explaining the gas flare reduction trend recently in Abuja, NNPC Chief Operating Officer, COO, Upstream, Mallam Bello Rabiu, noted that as at 2006 Nigeria was flaring 2.5 billion standard cubic feet (scf) of gas, while consuming only 300mscf of gas per day, adding that technology had helped the industry to record a drastic flare down.
He said the drastic reduction in gas flaring was achieved through aggressive gas commercialisation anchored on the Gas Master Plan.
On other actions by the Federal Government to end gas flaring in the country, Mallam Rabiu said government had designed a National Gas Policy which seeks, among other things, to end gas flaring by 2020.