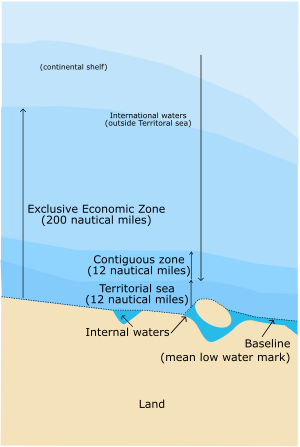 *As National Boundary Commission usurps NIMASA function
Vincent Toritseju
Lagos — The Federal Government through the National Boundary Commission has gotten approval to extend its Exclusive Economic Zone, EEZ, from 200 Nautical Miles to 350 Nautical Miles.
Recall a little over ten years ago, Nigeria applied for the extension of its Exclusive Economic Zone through the National Boundary Commission, NBC.
Speaking at the Maritime former Director General of the Nigerian Maritime Administration and Safety Agency, NIMASA Business roundtable Breakfast meeting on fishing and fisheries, Administration and Safety Agency, NIMASA, Mr. Temisan Omatseye said that the need to have a satellite coverage of nation's waters cannot be overemphasized moreso when Nigeria has extended its Economic Exclusive Zone from 200 Nautical Miles to 350 Nautical Miles.
With the extra 150 miles additional space, there must be a deliberate effort to cover the waters by satellite.
He explained that foreigners come into Nigeria with their trawler factories and cart away juveniles and adult fishes thereby damaging the nation's aquatic lives and resources to economic misfortune of Nigeria.
He said: "There is a need for us to have a total satellite coverage of our waters, it is absolutely imperative.
"The problem we have right now is that Nigeria has extended its Exclusive Economic Zone from 200 Nautical Miles to 350 Nautical Miles.
"What is happening right now is that these foreigners have their trawler factories coming to Nigeria and they are doing a sweep of Nigerian waters and we know who they are.
"They are Japanese, Chinese and Europeans and they are using illegal nets to catch all our small fishes and all the fishes and shrimps caught around waters in the West African sub-region are termed as Nigerian quota in the international market."
Similarly, convener of the meeting Mrs. Tosan Edodo-Emore said that there has been a steady decline in the domestic production of fish and Fishery activities.
Emore also said that between 1983 and 2000, the fish production level fell from 600,000 tons to 441,337 tons.
She explained that as Nigeria begin to develop her Blue Economy, the challenges of illegal, unreported and unregulated fishing must be tackled headlong.
Follow us on twitter