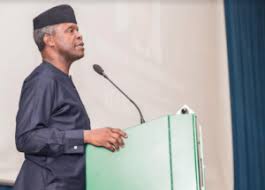 Oscarline Onwuemenyi
27 July 2017, Sweetcrude, Abuja – The Federal Executive Council (FEC) Meeting held on Wednesday in Abuja, ended on a high note as the cabinet meeting presided by Acting President Yemi Osinbajo, approved the National Petroleum Policy.
Speaking to State House correspondents at the end of the meeting, the Honourable Minister of State for Petroleum Resources, Dr. Emmanuel Ibe Kachikwu stated that it is a very comprehensive 100-page document that deals with all the spectrum in the industry.
Dr. Kachikwu further reiterated that apart from the fact of fluidity in pricing and uncertainty in terms of the price regime in crude, the Ministry of Petroleum Resources is pushing for a refining processing environment and moving away from exporting to refining petroleum products.
The minister explained that the National Petroleum Policy defines the strategy of the Federal Government with respect to Nigeria's oil resources. "It establishes the medium to long-term targets for oil reserves growth, and utilization and record strategies to be pursued to ensure the successful implementation of the policy in accordance with Nigeria's national socio-economic development priorities," he stated.
He added that, "It articulates the vision of the Federal Government of Nigeria for the petroleum (specifically oil) sector, sets goals and strategies, promotes a level playing field between State Owned-Enterprises and the private sector, proposes fundamental reforms to improve the operational efficiency and performance of the Nigerian National Petroleum Corporation, NNPC, and proposes a long-needed overhaul and modernization of the existing petroleum industry legislation."
It is intended to remove the barriers affecting investment and development of the sector. The policy will be reviewed and updated periodically to ensure consistency in Government policy objectives at all times.
A statement from the ministry noted that the main aspects of the petroleum policy include Governance (Legal and Regulatory Framework), which encompasses Institutional Reforms, Regulatory Framework, Commercial Framework, Fiscal Framework, Sector Financing, and PSC – Plus Cost Structures.
Another aspect refers to the Industry Structure – Clean Break from the Past; Establishment of a new National Oil Company of Nigeria (NOCN); Restructuring of NNPC: Into autonomous business units; Gain more of the value from downstream export markets; Procurement for Projects: Fundamental overhaul to bring efficiency, transparency and cost control; and Asset Management: Work existing assets much harder, professional and modern asset management methods to be introduced, cost control methods need to improve substantially
Others are: Upstream – Developing Resources – Maximising Production of Hydrocarbons within Nigeria; Maximise additions to reserves and future production; Diversify resource base, and identify low cost resources; Allocation of Oil Licences and Leases; Minimise Environmental Footprint: "Name and Shame" + "Polluter Pays"; and Balance Petroleum Resources with Renewable Energy
Midstream Operations aspect of the policy would cover – Infrastructure (transportation and processing); Develop Operating Oil Product Midstream Facilities; Refining: Strong refining sector a basic requirement of Petroleum Policy. Jetties: Potential areas of risk, physical and commercial – Proposed Commercial Framework for Midstream Oil.
Downstream – Infrastructure and Markets including Commercialisation and Liberalisation of Downstream, and Petroleum Products Pricing Policy.
Other aspects are Developing National Human Resources – Problems of developing local content in a depressed economy; Nigeria must be able to Export Skills; Developing local content and implementing Local Content Act; Install institutional capacity building, and Introduce a maintenance and safety culture.
Finally, on Communications: Internal and external communications strategy including Roadmap and Action Plan; Action plan for short term (months); Implementation Plan for medium term (1-2 years); Implementation Plan for long term (over two years), and Critical milestones.