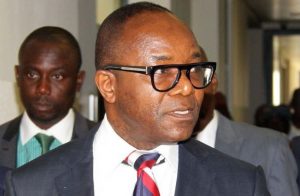 …says to take Nigeria average $10b yearly to produce, cap oil fields
OpeOluwani Akintayo

03 August 2017, Sweetcrude, Abuja — The Minister of state for Petroleum Resources, Dr. Ibe Kachikwu, has said that the Federal Government is targeting three million barrels per day of crude oil production.
This revelation is contained in the bulletin of the Organisation of Petroleum Exporting Countries, published during its 7th Annual International Seminar.
According to the bulletin obtained by Sweetcrude Reports, Kachikwu disclosed that although Nigeria's current production level is about 2.2m b/d, the government is targeting an increase to 3m b/d.
"Investment is needed to maintain essential work. Nigeria's normal production level is 2.2m b/d, and the government would like to raise it to 3m b/d", he said.
The Minister also said that for Nigeria to begin production of crude oil in a new oil field, it would cost the country about $10 billion per year for over three years.
"Just to get fields online and cap them will require an average of about $10 billion per year in investments over the next three to four years," he noted.
Kachikwu's revelation on spending $10b yearly on developing a new oil field comes on the heels of the clamour that the country has not developed any new oil fields in the past 15 years.