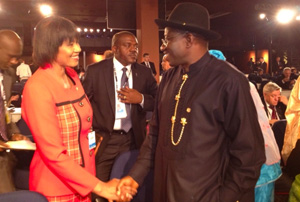 06 August 2012, Sweetcrude, KINGSTON – PRESIDENT Goodluck Jonathan and the Jamaican Prime Minister, Portia Simpson Miller, have signed a series of cooperation agreements following bilateral talks in Kingston.
The agreements covered energy, trade, culture, air services and education, along with technical scientific cooperation.
The two countries will look to resume the Nigeria Technical Aid Corps programme, which allowed Nigerian professionals to be deployed to Jamaica to assist with training in areas like energy, nursing, sports and education.
"We are looking to further cooperation through the conclusion of an air service agreement allowing for Jamaica to serve as a gateway for Africa into the wider Caribbean region, as well as, a hub for goods and services," Simpson Miller said.
Jamaica will also participate in the First African Global Diaspora Summit, she said, as Jamaica supports the "movement towards greater cooperation, solidarity and involvement of the African Diaspora in the development of the continent."
President Jonathan thanked Jamaica and its people for the opportunity to visit the country, saying Nigeria was committed to supporting Jamaica in any area of interest.