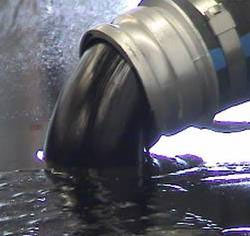 25 April 2014, Lagos – Nigeria is losing $40.567 million, about N6.492 billion daily, due to Shell Nigeria's continued closure of the 400,000 barrels per day Forcados oil export terminal, seven weeks after it was shut for repairs.
The shutdown, according to a spokesperson for Shell, Precious Okolobo, was due to a sabotaged undersea pipeline and had cost the country about $1.988 billion (N318.108 billion).
Okolobo said: "The force majeure declared March 25 remains in effect. This gives the company some legal protection against contractual obligations because of events beyond its control."
Austin Igbuku, Manager of Shell's Ogoni Restoration Project, also stated that crude thefts had risen to unprecedented levels, greater than at the height of militancy in the Niger Delta when the United Nations estimated that about 150,000 barrels a day of crude was stolen in 2009.
He said: "The combination of crude oil theft, illegal refining and pipeline vandalism has become a major threat to the Nigerian economy.
"Massive oil spills also result from these activities, forcing the operators to frequently shut in production to repair the sources of leaks, take out theft points, clean up spills and restore the environment.
Theft network
"Such an underwater operation does not come easy to us in the industry, but some criminals were able to install a theft point without detection. Investigations are ongoing to understand how this was done."
Igbuku said the oil industry estimates four-fifths of the stolen crude is going to local and international crime syndicates who take the crude to large, ocean-going tankers waiting offshore, which export oil to refineries outside the country.
"Some of these tankers reportedly meet mid-ocean to transfer and blend their stolen cargo, aiming to obliterate the origin of the crude oil," he added.
Reason for closure
Shell said it closed the Forcados terminal in Delta State on March 4 to repair a leak caused by a 'crude theft point' on a pipeline eight meters (26 feet) below sea level. It is believed to be the first report of oil equipment sabotage at sea.
A statement purporting to come from the Movement for the Emancipation of the Niger Delta, MEND, said they sabotaged the pipeline on March 1 and that scuba divers around March 27 caused further damage to the ongoing repair works.
The biggest loser in all these sabotage is the Federal Government, which is the largest shareholder in Shell Nigeria and which relies on oil for about 95 percent of its revenues, he said.
Analysts say the large-scale thefts would be impossible without collusion from some of the military personnel deployed to prevent sabotage.
They add  that politicians and military officers take a share of the proceeds.
– See more at: http://www.vanguardngr.com/2014/04/nigeria-loses-n6-5bn-daily-closure-forcados-terminal/#sthash.Hauhvlme.dpuf