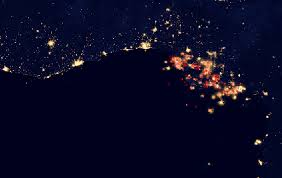 05 May 2016, Lagos — Nigeria lost a potential for 3000 megawatt power, between January and February 2016, as oil and gas companies operating in the country flared 42.7 billion Standard Cubic Feet, BCF, of gas in the period under review.
Data obtained from the Nigerian National Petroleum Corporation, NNPC, Monthly Financial and Operations Report for February 2016,puts the value of gas flared at $128 million, about N25.62 billion, even as it earned N43.507 billion from export and domestic gas sales in the two-month period.
Specifically, the report explained that the amount of gas flared in the two-month period — 42.7 billion SCF, translates to about 711 million SCF per day. Using statistics from the report, 711 million SCF/day, would have generated about 3,000MW of electricity for the country.
In addition, using the Nigerian Gas Company's average gas price of $3 per 1,000 metric tonnes, the 42.7 billion SCF flared during the period amounted to a loss of $128 million.
A breakdown of revenue from gas sales, showed that NNPC earned N944.4 million from domestic sales in February, rising from N880.314 million received in January, while it realised$72.525 million (N14.505 billion) from export in February, compared to $135.89 million (N27.178 billion) in January.
The report said proceeds from domestic gas sales were paid into the Federation Account, while proceeds from gas export, along with other export proceeds were mainly used for joint venture financing.
Continuing, the report said 219.92 billion SCF gas was produced in February, out of which a total of 124.21 billion SCF was commercialised, comprising 29.84 billion SCF and 94.37 billion SCF for the domestic and export market respectively.
This, according to the report, translated to an average daily supply of 1.029 billion SCF/day to the domestic market and 3.254 billion SCF per day of gas supplied to the export market.
The report further stated that this implies that 56.48 per cent of the total gas produced was commercialised while the balance of 43.52 per cent was re-injected, used as upstream fuel gas or flared.
The report put gas flare rate at 9.27 per cent in February 2016, that is, 702.79 million SCF/day, compared with average rate of 9.12 per cent, which is 713.68 million SCF/day from March 2015 to February 2016.
It added that total gas supply from March 2015 to February 2016 stood at 387.74 billion SCF and 1.244.08 trillion SCF for the domestic and export market respectively.
The report further stated that production from Joint Ventures, JVs, Production Sharing Contracts, PSC, and the Nigerian Petroleum Development Company, NPDC, contributed about 69.78 per cent, 21.60 per cent and 8.62 per cent respectively to the total national gas production.
*Vanguard