11 November 2014, Lagos – The Africa Finance Corporation says $53bn investment is required to address the huge deficit in gas infrastructure in the country.
The President and Chief Executive Officer, AFC, Mr. Andrew Alli, in his presentation at the Lagos Business School's Executive Breakfast Session on Monday, said there was huge potential for private sector participation, but there were also a number of bankability issues, especially with regards to off-take.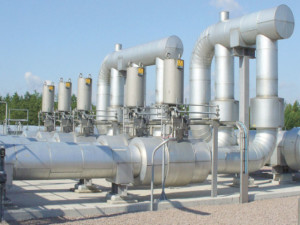 According to him, $4bn is required for gas processing hubs, $29bn for pipelines, $5bn for Liquefied Natural Gas trains and $14.5bn for LNG vessels.
He said $40bn was required for new electricity generation capacities ($25bn for private sector assets and $15.2bn for public sector assets), while $11.4bn would be needed for the upgrade of the transmission grid.
Alli said $1.73bn would be needed for additional distribution lines to connect 11.5 million new households and $2.07bn for off-grid access.
He noted that the African Development Bank had estimated that $35bn yearly (2010-2020) was required to develop Nigeria's infrastructure, focusing on four broad sectors, transport and transport infrastructure, electricity and rural access, water and sanitation, and Information and Communication Technology.
"The deficit creates the opportunities for investment only if adequate reforms or policies or investment incentives have been put in place. Most of the reforms have been sector specific and create a 'London-bus syndrome' in the Nigerian power sector. This in turn creates lumpy risk asset portfolios capable of causing systemic risks," Alli said.
Noting that 85 per cent of roads in the country were in poor condition, he said $69.6bn was required for capital expenditure ($41bn), maintenance ($27bn), capacity building and technical studies ($1.6bn).
"Only 24 per cent of funding requirement is currently provided through budgetary allocations. Twenty or more projects are being considered for PPP type financing by the Federal Ministry of Works, most of which have bankability challenges."
He said rail accounted for only one per cent of transport; passenger traffic declined 93 per cent (1980 & 2011) and freight, 88 per cent (1960 & 2011), adding that $9.95bn was required to build new tracks ($8.8bn), rehabilitate 2,993km of single track ($0.54m), capacity building and technical studies ($0.61m).
"Reforms are required to make these projects investment opportunities. Approximately, $7.06bn is required for rehabilitation of airports, runway expansion, fleet expansion, equipment upgrade, capacity building and technical studies," Alli said.
Noting that there were fewer opportunities for private sector involvement due to heavy government control, he said there were few opportunities for aircraft leasing and cargo services for the private sector.
The size of heavy industry in Nigeria is approximately $2.8bn, 18 per cent of total manufacturing activity, he said, adding that 60 per cent of manufacturing activity in the country was small and medium-scale but that the sector was growing at 22 per cent.
– The Punch