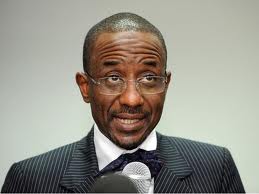 21 May 2013, Lagos – A handsome $16.609 billion (N2.641 trillion)went into Federal Government coffers in the first three months of this year as revenue from crude oil export.
This is according to data from the Cental Bank of Nigeria, CBN, which put the average price of Nigeria's premium crude, the Bonny Light, within the period at $115.34 per barrel.
The CBN first quarter 2013 economic report also indicated that Nigeria earned about $4.671 billion (N742.732 billion) from the sale of 40.5 million barrel of crude oil for domestic consumption in the first quarter of the year.
The report also revealed that Nigeria earned another $21.28 billion (N3.384 trillion) from total crude oil production of 184.5 million barrels in the period under review, a slight improvement on the $21.223 billion (N3.374 trillion) recorded in the preceding quarter, October to December 2012.
Nigeria's crude oil production, including condensates and natural gas liquids, was 2.05 million barrels per day, mbd, or 184.5 million barrels for the three months in the first quarter, the report added.
This is a marginal increase compared with 2.00 mbd or 184.0 million barrels in the previous quarter.
Total crude oil export for the first three months of the year was estimated at 144 million barrels at 1.60 mbd. This showed an increase of 3.2 per cent over the 139.5 million barrels or 1.55 mbd recorded in the preceding quarter.
Crude oil allocated for domestic consumption was 0.45 mbd or 40.5 million barrels for the first three months.
The CBN attributed the increase in crude oil production and export to the repair and restoration of damaged oil installations and improvement in security and surveillance of oil installations.