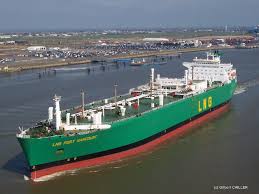 18 April 2018, Sweetcrude, Lagos – A Nigerian liquefied natural gas, LNG, cargo loaded at the LNG facility on Bonny Island in Rivers State will arrive Portugal on April 22.
It is the latest gas supply by the Nigeria LNG Limited, NLNG, to the European country under a sales-purchase deal struck
over 18 years ago.
LNG carrier LNG Port Harcourt II, owned by Bonny Gas Transport, BGT, a subsidiary of the Nigerian LNG Limited, is transporting 175,000 cubic metres of the chilled fuel and will discharged its content at the REN's Sines LNG import terminal on Portugal's Atlantic coast on the due date.
According to LNG World News, the vessel, built by the South Korean shipbuilder Samsung Heavy Industries, was delivered to Bonny Gas Transport at the end of 2015 by the South Korean firm.
The Sines LNG terminal on Portugal's Atlantic coast in the industrial area of Sines port has a nominal sendout capacity of 600,000 cubic meters per hour (5.26 bcm per year), with a peak capacity of 900,000 cubic meters per hour.
Nigeria LNG Limited operates six liquefaction units (LNG trains) at its Bonny Island facility, producing 22 million metric tonnes of LNG per year – about 10% of the world's total LNG consumption.
The company was incorporated as a limited liability firm on May 17, 1989, to produce LNG and natural gas liquids, NGL, for export, thus putting to use Nigeria's over 180 trillion cubic feet of natural gas reserves, which is being flared due to lack of adequate utilisation programme.
Since the Nigeria LNG plant began operation in 1999, it utilises 3.5 billion (standard) cubic feet of gas per day to produce 22 million metric tonnes of LNG per annum from its existing 6 trains. Plans are on for building Train 7 that will lift the total production capacity to 30 million metric tonnes per year.
Nigeria LNG Limited is jointly owned by the Federal Government of Nigeria (represented by the Nigerian National Petroleum Corporation, NNPC, with 49% stake, Shell Gas BV (25.6%), Total LNG Nigeria Limited (15%) and Eni International (10.4%).