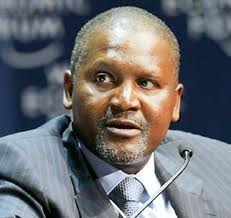 05 September 2013, Abuja/Lagos – Africa's richest man and President of Dangote Industries Limited, DIL, Alhaji Aliko Dangote, Wednesday promised to reduce by 50 per cent the importation of refined petroleum products for local consumption by 2016.
This he hinged on the takeoff of his refinery, petrochemical and fertilizer complex in Nigeria, which will be financed with a $3.3 billion credit facility from a consortium of banks.
Dangote and the banks yesterday signed the agreement for the project, which is expected to be Africa's largest refinery, petrochemicals and fertilizer manufacturing complex.
Guaranty Trust Bank Plc or GTBank and Standard Chartered Bank led nine other banks for the $3.3 billion syndicated facility. GTBank was the local coordinator, while Standard Chartered Bank was the global coordinator for the deal.
The other banks involved in the transaction are Access Bank Plc, Zenith Bank Plc, Ecobank Nigeria Plc, Fidelity Bank Plc, First Bank of Nigeria Limited, Standard Bank of South Africa Limited, United Bank for Africa Plc, FirstRand Bank, First City Monument Bank Plc and Diamond Bank Plc.
The project, which will cost a total of $9 billion, is expected to create about 9,500 direct and 25,000 indirect jobs, in addition to reducing the current volumes of refined fuel imports by about 50 per cent and effectively stopping the importation of fertilizer.
The project would be financed by $3.5 billion equity from the Dangote group and $6 billion loan capital.
In his address at the signing ceremony in Abuja, Dangote said with a refining capacity of the proposed refinery, which is expected to reach 400,000 barrels of crude oil per day and produce a variety of refined fuel products from local crude resources, Nigeria would cut its current volume of imported fuel products by a massive 50 per cent.
"The 2.8 million tonnes of urea will be channelled into growing the local agriculture sector which is essential in producing healthy crops and promoting Nigeria and West Africa's agricultural development.
"The petrochemical plant will produce polypropylene, which is a common component of most plastic and fabric products. For example, it is used in various forms of packaging, ropes and agro-sacks.
"This plant will further entrench Africa's role on the global map as not only a valued contributor for natural resources, but also a competent manufacturer of refined products and fertilizer.
"As a result, several African nations will be less reliant on importing fuel and fertilizer from foreign markets, reducing the negative impact of negotiating terms within increasingly turbulent international markets," he added.
Vice-President Namadi Sambo, who was the special guest at the ceremony, applauded the Dangote Group for supporting the economic agenda of the President Goodluck Jonathan administration, saying the government has created the enabling environment for businesses to thrive in the country.
Similarly, Minister of Petroleum Resources, Mrs. Diezani Alison-Madueke, said the planned Dangote refinery was for the whole world to note that the Nigeria economy is working.
In his remarks, Central Bank of Nigeria, CBN, Governor, Mallam Sanusi Lamido Sanusi, said the transaction showed that Nigerian banks were healthy, while attributing the development to the banking sector reforms.
He also called on the federal government to discourage importation and encourage local manufacturing.
"Nigerian banks will lend to the real sector when a bankable project appears because they have the capital, liquidity and personnel but the loans and the structures have to be right.
"All too often, we fail to mention that progress has been made. Today as part of this project, the CBN is availing the Dangote Group with N50 billion through the banks at no more than seven per cent for a term of 15 years; and we have always said that we don't have any ideological opposition to subsidies but we oppose subsidies for imported consumption.
"We will not subsidise those who are importing petroleum products but we will subsidise those who are building refineries because every time we subsidise imports, we create jobs abroad, lose foreign exchange and set the foundation for the weakening of our economy.
"So we need to redefine those subsidies, start exporting what we produce and importing what we cannot produce; we have no business importing petroleum products or tomato pastes, fertilizer or cassava and this is one of the key steps we need to start this. We congratulate the Nigerian banks," he said.
In his remarks, GTBank Managing Director/Chief Executive Officer, Mr. Segun Agbaje, said: "This is the largest syndication by banks in Nigeria and it is being undertaken with the knowledge that the successful implementation of Dangote refinery and fertilizer project will have far-reaching implications for Nigeria's economic growth."
Agbaje further stated that GTBank was very proud to be associated with Dangote Industries on the project and praised Dangote for his steadfastness, hard work and genuine desire to see remarkable economic improvement within the country.
After the ceremony, Dangote led other dignitaries to pay a courtesy call on Jonathan who pledged that his administration would keep on implementing policies and measures to continuously improve the operating environment for entrepreneurs and investors in the Nigerian economy.
The president also pointed out that his administration was fully committed to progressively removing impediments to investment such as inadequate infrastructure and epileptic power supply.
A statement from the Special Adviser to the President on Media and Publicity, Dr. Reuben Abati, said Jonathan applauded plans by the Dangote Industries to build Africa's largest refinery, petrochemicals and fertilizer manufacturing complex in Nigeria.
He said the president also expressed the federal government's appreciation of the great support being given by Nigeria's private sector to the implementation of his administration's agenda for national transformation.
Noting that the Dangote group's massive investment in refining, petrochemicals and fertilizer production would contribute significantly to the attainment of the government's priority objective of job creation, the president thanked him and the chief executives of the Nigerian banks that financed the project for being patriotic and having the confidence to invest in their own country.
"We are pleased that you are now investing in refining, petrochemicals and fertilizer production. It is the downstream sector of oil and gas that can really create many jobs. Your interest and investment in that area will help in the area of job creation, which we have been emphasising.
"You are also helping us to move away from being a mere producer of raw materials by adding value to our natural resources," Jonathan said.
Earlier, Dangote said they were at the State House to thank the president for his administration's policies, which have greatly encouraged further investments in Nigeria.
"Without good government policies, there is no way the private sector can invest in Nigeria, because we are not Father Christmas at all. The policies have to be right," he said.
He also stated that with the signing of the agreement, about 85,000 Nigerians at the initial stage and 8,000 engineers would be employed, adding, "When you look at what is now happening to Shell Petroleum and others, this policy is better for us."
"We want to export petroleum products rather than export crude oil. This is the biggest largest single investment in Africa ever. No more importation of fuel and other bye-products of petroleum.
"Your policies have helped us greatly. Without them, we will not be where we are today," Dangote said.
– Muhammad Bello, Chineme Okafor and Obinna Chima, This Day