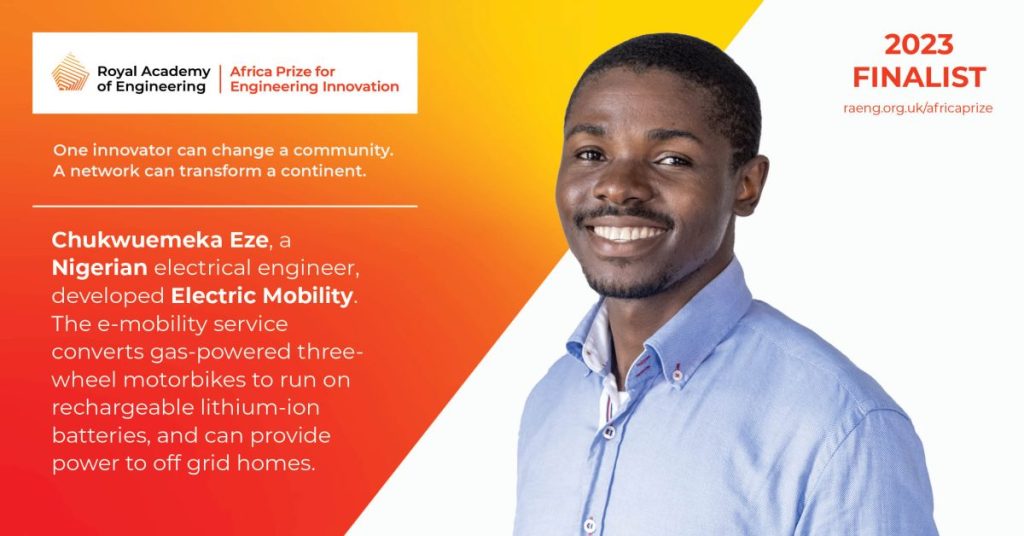 Lagos — Nigerian engineer, Chukwuemeka Eze, has been named a finalist for this year's Africa Prize for Engineering Innovation by the Royal Academy of Engineering. I attach our press release for your information, and I've included a short paragraph about Chukwuemeka at the end of this email. You can read more about his innovation here.
The Africa Prize 2023 winner will be announced in Accra on 6 July 2023, and will receive £25,000. In the meantime, Gibson is available for interviews should you wish to speak with him. Original photography and videography of his innovation can be accessed by clicking on his name below.
Chukwuemeka Eze, a Nigerian electrical engineer, developed the Revive Kit, a modular e-mobility service used to convert gas-powered three-wheeled motorbikes to run on rechargeable lithium-ion batteries. Drivers can save up to 60% in operational costs, including gas or petrol, and 90% in maintenance costs. Eze's company also trains technicians in the use of the kit. The Revive Kit includes lithium-ion batteries, an AC induction motor, a retrofit shaft and an electronic controller, which acts as the inverter. It also includes a vehicle-to-home power adapter. Hall-effect sensors interface the throttle and the motor to the controller to determine and regulate motor speed. Other sensors monitor the vehicle's battery and location, engine performance, motor temperature and maintenance requirements.
On a single charge, the smart battery rack accepts modular batteries, and can accommodate batteries for a range of up to 120 kilometres on an average load of 320 kilograms. The vehicle-to-home integration can provide power to charge devices in off-grid homes or during power failures.
The modular battery and the smart battery racks can also be used by third party agents in building battery booths for a battery swapping network that uses mobile technology to keep drivers informed on the availability of charged batteries. This eliminates charge downtime and reduces pressure on the grid/supply.
Follow us on twitter