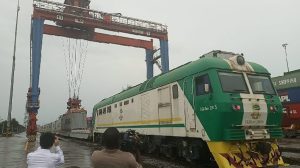 – To evacuate 90 containers daily from Apapa
Vincent Toritseju
Lagos — Minister of Transportation, Senator Saidu Alkali, on Tuesday flagged off the movement of containers by train out of the Apapa Port through the A. P. Moller Terminals in Lagos.
With this development, the Nigerian Railway Corporation, NRC, said three trains of 30 wagons would be lifted daily out of the ports thereby decongesting the port environment.
Recall that two years after President Muhammadu Buhari inaugurated the flag off of freight services with a view to ease the movement of containers by train.
The 157-km long railway line with an extension to the Apapa Ports in Lagos has been largely under-utilised due to some impediments which have stalled the complete linkage of the track to the Apapa Port quay.
A radioactive scanner belonging to the Nigerian Customs Service (NCS) was billed to be removed to pave the way for the completion of the track but this has dragged on for over two years.
The NRC had to divert the track temporarily pending when the building would be removed.
The China Civil Engineering and Construction Corporation (CCECC) had also raised concern over the under-utilisation of the track.
As far back as 2021, Deputy Managing Director of CCECC and the Project Manager, Mr. Xia Lijun, said while passenger service has continued since commissioning, operation of the track for freight service must resume.
But the jinx was broken when the Minister flagged off the container movement facilitated by Buen Logistics at the APMT in Apapa.
The train loaded with 30 Wagons took off to Moniya in Ibadan which is the terminal point of the Lagos-Ibadan Train.
The Minister said the freight train would operate on a single track temporarily pending when the customs scanner would be removed, disclosing that the Ministry is interfacing with the Customs to remove the scanner.
The NRC Managing Director, Engr. Fidet Okhiria, said there would be three trains per day translating into 90 containers being lifted out of Apapa on a daily basis.
Executive Director, Buen Logistics, Mazi Jetson Nwankwo, said, "What we want to achieve under your regime is to decongest Apapa Ports and all the flyovers that have container trucks littering all over. By the time we move three trains a day, Lagos would be free for a good ride. We are happy this is happening under your tenure."