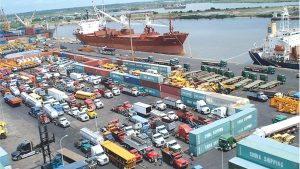 Michael James
28 February 2018, Sweetcrude, Lagos – The Nigerian maritime industry is projected to grow by 2.5 – 5 % in 2018-2019.
Also, demand for maritime services in the country is expected to increase during the period.
The projections are contained in the Nigerian maritime industry forecast for 2018/2019 unveiled in Lagos by the Director General, Nigerian Maritime Administration and Safety Agency, NIMASA, Dr. Dakuku Peterside.
The publication shows that Nigerians should expect total fleet size to grow by 4.08% in 2018 and 4.41% in 2019.
The maritime forecast released by NIMASA also project that oil tanker fleet size will decrease by 2.23% in 2018 and increase by 1.7% in 2019. The non-oil tanker fleet size is projected to increase by 8.15 % in 2018 and 8.72% in 2019 while oil rig count is projected to increase by 27.67% in 2018 and 0% in 2019.
While noting that the maritime sector plays a major role in the exploitation, distribution and export of Nigeria's ocean resources, the document put the total national annual freight cost at between $5 and $6 billion.  The maritime component of the Nigerian oil and gas industry is worth an estimated $8 billion dollars further reflecting the prominence of the sector to the Nigerian economy, the document said.
The Nigerian Maritime Industry Forecast for 2018 and 2019, which is the first of its kind in the sector, is intended to serve as a compass for local and international stakeholders willing to do business in the Nigerian maritime domain.
It is part of the initiatives of the NIMASA management at creating a robust and virile maritime industry in Nigeria. The forecast period 2018-2019 covers a time of continuous recovery from recession, to the 2019 general elections and finally culminates in the post-election era.